SAC Highlights Farming's Retreat from the Hills
05/08/08
A report released today highlights the dramatic decline in sheep numbers in the Scottish hills.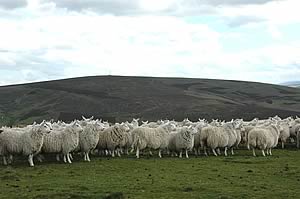 In the context of growing concerns that there are substantially fewer livestock on the hills – with potentially negative consequences for the economic, social and environmental sustainability of upland areas – SAC has brought together evidence on what is happening to livestock numbers. The report further identifies the trends and geography of current changes and discusses what the most appropriate responses might be.

The report highlights that sheep numbers have declined dramatically since 1999, most notably in the North West, with many areas seeing a reduction of between 35 and 60 percent.

Tony Waterhouse, Head of SAC's Hill and Mountain Research Centre, said: "Hill farming is an important part of remote, rural communities and recent changes in farming practices can have significant repercussions for Scotland's local economies and biodiversity. Understanding what drives and shapes the future of hill farming, rural communities and the environment is at the heart of this research".

Alan Renwick, Head of SAC's Rural Policy Centre, said: "This report contributes to the debate on the future of hill farming in Scotland. We hope this new information will stimulate and develop the discussions on the future of hill farming and especially the policies that might be needed".

Suffolk Sheep Sale Success Over-Rides BTV Zones


Sheep Market Fundamentals Set Fair


Sheepmeat has Potential to Keep UK Food Costs Down