18/08/08
Off road farm rides are a popular way for horse owners to enjoy a change of scenery and escape the dangers of riding on public roads. Merseyside's newest and only UK Chasers horse riding course has just opened.
In partnership with landowners, UK Chasers have been
the country's leading provider of safe off-road riding for their members for 20 years.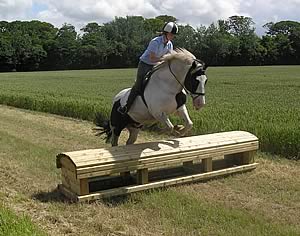 Fisher German LLP who specialise in looking at opportunities to help their clients diversify their land, recently assisted the Blundell family establish this circular 4-mile "farm ride" around their 1,500 acre Crosby Estate. This ancient estate, which has been home to no less than 29 generations of the Blundell family, sits north of Liverpool and the ride encompasses picturesque scenery, field boundaries and woodland tracks, with over 20 jumps, water splash, logs and fences. The course has been professionally built by a British eventing and listed course designer.

Mr Mark Blundell comments: "Equestrianism is one of the fastest growing rural industries. We want to welcome horse owners to this family estate and, in an area dominated by tarmac, give them the opportunity to ride safely across miles of grassland tracks and woodland rides"

Richard Baker of Fisher German adds "we spotted a gap in the Merseyside market for this interesting off road ride. Facilities for horse owners and riding clubs/organisations in the area are limited with the nearest comparable facilities being some 22 miles away at Willaston. Alongside our involvement, the project was undertaken in conjunction with UKChasers who helped with the marketing, design and implementation of the ride."

The ride is a 10 minute drive from the M57/M58 and eight miles from Liverpool. There is ample on site parking with a horse wash down facility. Admission prices for adults and children are £12 per horse/circuit and £10 to RDA members.

For further information on booking, please contact 07526 791 153 or visit www.littlecrosbychasers.com/. Alternatively, if you would like to speak to Fisher German LLP concerning this project, please call Richard Baker on 07786 336925.

Sycamore Farm - An Equestrian or Environmental Paradise


Arable Land Prices Reach Record High


Whitehouse Farm Centre Looks For Enthusiastic Buyer