August Proof Run Enhances bullsemen.com Position
22/08/08
Four bulls in the top 10 of the new £PLI rankings plus the highest new entry in Durham grandson Zenjo mean that Bullsemen.com has again strengthened its position as the dominant new force in dairy genetics following the latest proof run.
Zenjo Silver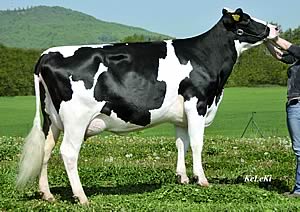 German-bred Laudan rises to 2nd in the rankings with a PLI of £214 and shows all round strength with milk production of 586kg and a Type Merit of 2.5. Like Leif, who is ranked 5th, Laudan now has a UK proof to back his extensive global standing.

Zenjo, who is bred from Durham son Zenith, enters the new rankings with a PLI of £167 and again meets Bullsemen.com's stringent minimum standards criteria with milk production of 428kg and a Type Merit of 1.8.

Of many other significant performers from the Bullsemen.com stud, the American sire Classic Merrill Lynch from CRI stands out for his outstanding fertility index of +7, which is derived from a global proof based on a phenomenal 42,772 daughters in 9,394 herds.

Bullsemen.com now has 15 bulls in the top 50 ranked by UK £PLI, more than double the number of any other semen company, and claims the best value for money genetics in terms of PLI points per £ spent.

Northern Expo Dairy Show 2008


Top Holstein Bull Still Top After Proof Re-Rank


Tom Peters Joins the Cogent Team