McCormick MC Power6 Tractors Get Bigger, Better Engine
17/06/08
A new engine installed in the popular McCormick MC Power6 compact six-cylinder tractor meet more stringent exhaust emissions legislation and provides some improved performance characteristics.
The 6.7-litre BetaPower engine packs plenty of torque to give the McCormick MC135 Power6 solid performance.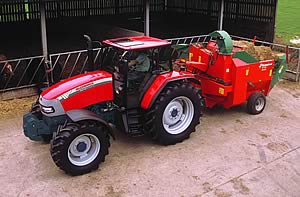 The high-specification transmission and hydraulics of the McCormick MC120 Power6 and McCormick MC135 Power6 have always made the tractors ideal for a wide range of arable and livestock farm applications.

Now, these features are matched by the new engine: in place of the 'electronic' 6.0-litre diesel fitted previously is the larger capacity 6.7-litre BetaPower engine.

This engine is already used in the bigger McCormick MTX tractors and, for simplicity, it uses mechanical fuel injection. Yet the engine still meets the latest 'green' exhaust emissions standards.

"For the MC120 Power6, peak output is about the same as before at 117hp but there is a 6% increase in torque to give the tractor a bit more 'lugging' ability," notes Paul Wade, product specialist. "The MC135 Power6 engine has been tuned with a little less power than previously at 127hp. But torque output has been maintained, peaking at 559Nm, so drivers will find the tractor gives similar performance in the field."

While the MC Power6 machines are only now sharing their engine with the chassis-framed McCormick MTX, they have always shared the bigger tractor's transmission and hydraulics – so despite their smaller size, they have real substance.

The transmission provides a slick power shuttle plus a four-speed powershift operated by a thumb switch on the four-speed range gear lever. The standard gear set-up of 16 forward and 13 reverse speeds can be doubled with the creep gearbox option.

In the hydraulics department, the MC120 Power6 and MC135 Power6 serve up a closed-centre load sensing system with up to 109-litre/min oil flow and 6602kg lift from the lower link sensing three-point linkage when the optional assist cylinder installed.

A front-mounted linkage and pto assembly is also optional on the tractors, as well as independent front axle suspension to give added stability and comfort in the field and on the road.

McCormick Dealers Stock New XTX165 Tractor in Miniature


New Holland BB9000 Big Balers Weigh in with New Features


More Power from New Holland as the T9000 Tractor Arrives in the UK