Top Italian Sire Joins Dairy Daughters
24/06/08
AI company Dairy Daughters has secured supplies for the UK of one of the top Holstein sires currently available internationally.
Alpag Iron Active daughter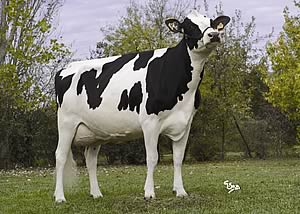 The bull is Alpag Iron Active, the Boss Iron son which made his debut at the top of the most recent genetic rankings in Italy – a country which is renowned for breeding high type and production dairy cattle. Early indications are that he is showing equal promise in numerous other countries. He is already in use as a sire of sons.
Active appears to be transmitting all that is good in both his parents – the outstanding type, fertility and longevity traits of Iron, his sire, and high production from his dam, a Manfred daughter from the famous American Allie family. Added to this is the Alpag herd in which the bull was bred – renowned amongst breeders for its standards of conformation and with a string of Italian national championships to its credit.
The net result is a bull with a Profitable Lifetime Index (PLI) of £200, positive scores for both fat and protein per cent and a no-holes linear profile without any extremes. Stature and angularity are close to breed average, while every health and management trait has a positive score. His production proof weighs in with 525kg milk, 30.0kg fat (+0.13%), 18.6kg protein (+0.02%), making him an exceptional all-round package for the modern farmer who needs good production from manageable cows which will readily fit into a commercial system.
"We are absolutely delighted to be able to supply semen from Active, as he is a bull which we feel reflects today's dairy farmers' goals," said Alison Lovell from Dairy Daughters. "His daughters are not that big or angular, but they have fantastic production and management traits.
"His really tidy pedigree will also have widespread appeal as his sire, Iron, has thousands of UK daughters and a proof which has stood the test of time, while his maternal grandsire, Manfred, has bred many successful animals including the UK's number one sire, O-Bee Manfred Justice."

Producers Advised to 'Milk' the Milk Sample


Four For the Future at Cogent


Milk Price Hikes Must Feed Back into Dairy Supply Chain