Easy Care Traits Available in Suffolks
02/05/08
One of the UK's leading native terminal sires has major easy care traits within its genetics.
Dr Janet Roden unveils the groups of lambs,
seen for the first time as sire groups rather than mixed mobs.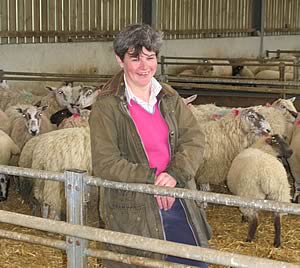 Confirmation of the traits which are now key to successful modern day shepherding come from independent trials being run by the Institute of Rural Science (IRS Aberystwyth University) at Morfa Mawr Farm, Llanon and funded by Hybu Cig Cymru-Meat Promotion Wales (HCC), Innovis and the Suffolk Sheep Society. They were viewed by more 80 Suffolk breeders and farmers at an open day on the farm this week. (April 29).

The proof and promise of easy care Suffolks is seen in the first phase of performance comparison trials on more than 700 Suffolk cross lambs born in a Welsh lowland environment in mid-February this year.

Three sire groups were used: traditional Suffolks, High Index Suffolks and New Zealand Suffolks. Dr Janet Roden explains: "The lambing results have revealed considerable variation in the "easy care" attributes of lambs sired by different rams

Easy care management traits recorded the following results on the 702 lambs born with 99% born alive:

Only 2.3% were lost within the first 48 hours of life,
NZ lambs tended to be lighter at birth and therefore had the highest per centage of easy lambing
Simple incorrect lamb presentation at birth gave rise to 80% of lambing assistance required.
97% of singles and twin lambs overall sucked without assistance
6% overall requiring suckling assistance were mainly triplets
The variation between individual sires for vigour – judged on the ability to stand up - and to suckle was far greater than the variation between groups of sires.
At eight weeks of age the lambs sired by both UK Suffolk groups were slightly heavier than lambs sired by New Zealand Suffolks.
Lambs sired by New Zealand Suffolks were slightly less daggy, however Dr Roden pointed to the variance between individual sires, with one of the traditional Suffolk lambs ranking second overall on cleanliness.

Dr Roden explained that these results are the first tranche of data with further information becoming available over the coming months on general ease of management and most importantly on slaughter data as and when the lambs are sold. Full carcase analysis will be carried out on all lambs and a final report bringing together all aspects of the trial will be published later in the year.

The first phase found average birth weights of singles were 6.1kg with twins weighing 5kg. At eight weeks singles were up to 26kg while twins were 21kg. There was little difference in the averages between the groups with UK high index being marginally higher at 21.6kg, UK traditional Suffolks were 20.7kg and New Zealand Suffolks 20.6kg.

Commercial director Robyn Hulme observed: "There are a number of important conclusions to be drawn, even at this early stage in the trials. Firstly this trial proves beyond doubt there is a major difference in a ram's easy care attributes, it is obvious that commercial lamb producers can gain an immediate labour and cost reduction advantage by sourcing rams that have been recorded for easy care attributes.

Secondly an increasing number of Suffolk breeders are now concentrating on selection policies emphasising minimum labour input and currently over 250 members are recording lambing ease and lamb vigour traits. It proves beyond doubt the importance and advantages of recording, which has been the Society's policy for a number of years."

Prys Morgan, HCC's Industry Development Manager says, "Recorded sires have real benefits in increasing the performance of a flock. The project has shown how farmers need to choose their sire to meet their individual farm requirements. The use of estimated breeding values (EBV's) and performance recorded stock will enable them to do this."

The trials have been carried by the IRS working to industry standard benchmarks. The same benchmarks are also currently being used in the Society's development work through SAC and Signet to formulate EBVs for lambing ease, lamb vigour and other management traits, which it is anticipated will be available within two years. To receive a list of members who record, call the Society office on 01684 893366.

Second NSA Early Ram Sale Planned


English Lambs Improve in Carcase Quality


Sea Change in Commercial Lamb Production