07/05/08
By David Jacklin, consultant nutritionist, Keenan Rumans
Many dairy farmers will have achieved good margins this winter, following substantially increased milk prices and reasonable feed costs, especially if contracted by last summer.
David Jacklin talks to farmers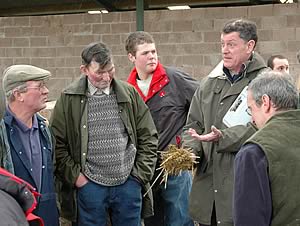 However, costs are rising fast. Feed, fertiliser and fuel are all far more expensive. Many feeds - including cereals, soyabean and rapeseed meals- are £100/tonne more than a year ago.

Blends and compound feeds have not increased as much – yet, but are quickly rising. Increased costs of at least £50/tonne can be expected compared to contracts made last year.

Additional feed costs of 3 ppl often seem likely and total costs, including forages and fuel, look set to rise by 5-6 ppl. Most producers will realise this is the typical increase in milk price realised this winter, so it could all be used up. So what can be done to help?

Firstly, maximise home-grown feeds as best you can. Making plenty of good quality forage is hardly new advice, but is even more important when wheat is £170 rather than £70/tonne, because energy costs are massively increased.

At least two forages (eg grass/maize or grass/wholecrop) will continue to be important for many dairy herds, to spread risk and improve nutrition of the cow. Perhaps maize should be considered even in some marginal areas.

It is interesting that some of the best maize in Northern England last year was grown in Cumbria under plastic; it not only dramatically increased yields but improved cob and starch% too.

Many farmers will be tempted to sell home-grown cereals and buy in a replacement feed. But is this sensible? The replacement may well be inferior and just as expensive (the cereal price dictates the price of other energy feeds, in the same way that the soya price drives the price of other proteins).

Careful consideration of purchased feeds is needed. Agreeing forward contracts for straights, blends and/or compounds often saves money.

Those few farmers who forward bought their soya at £160-170/tonne last spring 2007 for two years ahead are to be congratulated. But the greater number of good dairymen who contracted their blend and/or cake at £160/tonne just for this winter typically saved £40/tonne which was extremely worthwhile. Every year is different but planning ahead is more important than ever.

Feed quality is just as important as cost – if not more so. So check the declared feed ingredients (expressed as % range) in blends and compounds.

Some are very good, some are poor. It was quite common to see dairy cakes this winter with 10-25% inclusion of wheatfeed, palm kernel and sunflower seed meal (all mediocre energy feeds) – that's up to 75% of the cake, and they weren't cheap.

Try to ensure all or at least most of the blend/cake is based on good quality feeds. There may be some opportunities to obtain good value feeds – especially moist feeds in the spring. In the current market any feed at about £100/tonne dry matter (£25/tonne fresh for brewers grains) is excellent value.

But remember the feeds need to be stored and ideally clamped to minimise wastage. Molasses can be another good buy (often about £100/tonne this winter) and will be worth considering over the coming months even with costs increasing.

Think especially carefully before buying expensive supplements such as fats, amino-acids/high UDP proteins, yeasts and buffers, for most herds they are totally unnecessary provided the basics (good forages/feeds/feeding system) are sound.

Provided the weather is reasonable then for most herds it will make sense to make good use of grazing. A limited buffer mix to complement leafy grass will usually be beneficial, fed for an hour or two around milking.

In the spring, when grass is at its best, it may be possible to exclude protein and use just energy feeds such as cereals, sugarbeet pulp and molasses with some limited forage and minerals (especially magnesium). Even high yielding herds averaging about 9000 litres/cow can sensibly graze at least by day.

It is important to benchmark milk production and feed usage and costs so that you know your own situation. Data from hundreds of UK Keenan owners shows a wide range of technical and financial efficiency.

FCE (feed conversion efficiency) measures the efficiency of feed into milk. It typically averages 1.2 but ranges between 0.9-1.6.

Total feed costs (including forage) have recently been averaging 10.5 ppl in Northern England, with a range from 7.5-14 ppl.

Margin (over total feed) has recently been averaging £3.77 but with a range from £1.60 to £6.30/cow/day. Although the margin depends on a range of factors (including milk price) efficiency has a huge effect.

An increase in FCE of 0.2 (from say 1.1 to 1.3) can reduce feed costs by as much as 3 ppl. This is worth £210 per cow in a herd averaging 7000 litres.

Rising Energy and Raw Material Prices are Boosting Demand for Pellet Binders


Volac International acquires Golden Maverick


Forage Maize for Viable Large Scale Cattle Finishing