New Maize Drilling Options from Kuhn
02/04/08
Kuhn Farm Machinery now offers a wider range of maize drilling options following investment in new production facilities for its established Maxima and Planter precision drills and development of attachments for the new Moduliner and Speedliner combination drills.
Moduliner maize drilling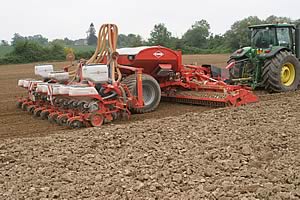 Both the Maxima and the adapted Moduliner are available as 8-row units. The Maxima GT, which is a pneumatic 8-row folding machine with an integral 1,350-litre fertiliser hopper, is available from the company from 2008. Additional versatility is afforded by the option of using this machine with the company's TF 702 front tank. Due to volumetric distribution, fertiliser application rate is precise, and is adjustable from 50 to 650 kg/ha.

The Maxima GT is the latest model in the Maxima range that has been developed for robustness, accuracy, large working capacity and adaptability to varying working conditions. In addition to an 8-row folding format, the drill is also available as a 4 row rigid toolbar and a 6 row telescopic model. Hoppers, with a good capacity of 52 litres, are set low (1.1 metres) for easy loading.

Seeding units are based on a strong parallelogram and weigh 120kg each, giving good stability in work and excellent ground following. Trash wipers and rotating front disc coulters – as well as the good weight and stability within each seeding unit – allows Maxima to be used in minimally worked conditions. The distribution unit is equipped with a 260mm seeding disc – the largest on the market - giving accurate seed placement at high speeds.
Moduliner

Launched at Agritechnica 2008, Moduliner is a new combination seed drill unit from Kuhn that will include the option of fitting an 8-row precision seed drill unit. The modular unit consists of a rotary harrow that can be equipped with a choice of rollers plus an undercarriage-mounted hopper of 2,800 litre capacity (extendible to 3,500 litres).
Speedliner
Kuhn's new Speedliner drill offers rapid and economical drilling, having the capability of working on ploughed land, minimal cultivated land, or as a direct drill on well-drained soils.
Lighter than Kuhn's Fastliner minimum tillage drill, the Speedliner has a lower horsepower requirement and is available in 3, 4 and 6 metre formats, with the 4 and 6 metre machines being hydraulically foldable to 3 metres. The Speedliner can also be adapted to operate as a precision drill suitable for maize.
Planter

Kuhn Farm Machinery's versatile Planter pneumatic precision drill range includes rigid, telescopic and folding toolbar options for maize, with 2.5m - 9.0m working width machines available and up to 8 seeding units, depending on row widths.

The company's TF 702 front mounted hopper gives further permutations for the maize drill range, creating additional fertiliser carrying capacity where required.

Strength and adaptability of the Planter range in general is characterised in the "H" beam frame, which allows accessories to be fitted to the front of the tool bar. Single bolt fixing to the beam allows quick adjustment of inter-row spacing down to a minimum of 250mm.

For spreading herbicides, insecticides or slug pellets, a pneumatic micro-granulator can be fitted to the "H" beam. In addition, a fertilising unit that places the fertiliser well below the seed can be added, complete with stainless steel hopper and 48 gear ratios to allow precise adjustment of rate.

John Deere at Grassland 2008


UK's First New Holland FR9090 at Grassland


Kuhn Offers More Options in Verge and Hedge Maintenance