New Worcester Venue for British Blondes
15/04/08
The sale of British Blonde cattle took place at its new venue Worcester Mart on Saturday 12th April under the expertise of auctioneer Clive Rhodes from McCartney's selling 90% of cattle forward.
Hackleton Achiever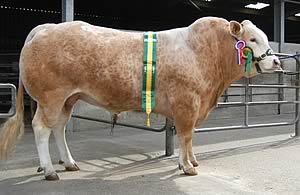 The Hackleton herd swept the board with Overall Champion and top price seen for Hackleton Achiever. Achiever by name and achiever by nature, this strong bull born 02/11/05 weighed in at 1240kgs out of Hackleton Serena sired by Hadley Hank. Owned by Mrs J Smith and shown by Mr Neil Brown of Hackleton Farm, Northampton, proud of his EBV's and his success in the show ring sold to Messer's HJ & BJ Read & Sons from Bromyard who own the Edvin herd for £3780.

Second top price of the day was bid for Hackleton Blenheim a, well muscled bull born 04/10/2006 and weighing 835kgs. This eighteen month old bull out of the same stable as the champion won his class for autumn 2006 bulls. Out of Hackleton Rosa sired by Whistley Dollar this second Hackleton bull of the day was sold to Mr A Turner from Hahon, Derbyshire for £3675.

Reserve Champion was Kinaston Arno born 05/12/05 weighing in at 990kgs. This strong bull from the Kinnaston herd owned by Mr R Kinnish from Bridgenorth, Shropshire was bought by Messer's DJ & HM Morgan from Peterchurch, Hereford for £2100.
Champion female Doncombe Bayadere born 21/11/2006 out of Doncombe Vashti and sired by Rodleigh Voyageur owned and shown by Mr D Knight from Bristol was sold to Messer's Phillips of Bockleton Farm,Tenbury Wells.

Top priced female of the day was Withybrook Sweetheart with calf at foot. Withybrook Sweetheart born 20/04/01 out of Brownhill Grace and sired by Burfield Peregrine owned again by Mrs J Smith and shown by Mr N Brown from the Hackleton herd, Northampton sold to Messer's Phillips of Bockleton Farm Tenbury Wells for £2047.50p.
Eight of the cattle sold at this new venue were sold to local farms.
The Blonde society would like to thank Mr S Feehan from A.B.P for judging the showing classes and Mr Gerald Shearing of Shearing Plough Livestock supplies for his generous sponsorship of this new sale at Worcester.
A large turn out was achieved through the support of society members and the interest from the farming fraternity. Interest in the breed and society proves to grow year on year and we look forward to building on this interest and taking the society and breed forward into a widening market.
16 bulls average price £2418.28
9 females average price £1211.00

Blondes Spring into Action at Dungannon Sale


British Blonde Cattle Spring Sale at Carlisle 2008


St George Beef Conquers France