New Holland T4000 Tractors Lead Compact, High-Performance Sector 06/03/08
The new T4000 Series tractor from New Holland extends its leadership in the compact, high-performance sector with new models offering between 65hp and 97hp.
Heir to the successful TND-A series of tractors, the T4000 range is built at New Holland's Jesi plant in Italy. The new range introduces a large array of innovations, all intended to increase its operating versatility and productivity. The design is modern and functional, featuring the family look with sloping bonnet and "cat's eyes" front lights.

The series comprises four models, each of them available with either a low profile ROPS frame or a suspended, pressurised Blue Cab. Two- and four-wheel drive and SuperSteer™ are available on the range-topping 97hp T4050 model, to create a highly manoeuvrable tractor with a best-in-class power-to-weight ratio, ideal for working in confined areas.


New engines
All models are fitted with four-cylinder engines offering increased power and torque at lower engine speed with reduced noise, fuel consumption and service costs. The new Iveco F5C and famous NH NEF engines are compliant with the Tier III standard and compatible with the use of 100% biodiesel.

The new F5C turbocharged, four-cylinder, 3.2 litre engine with intercooler powers the 65hp T4020 and 78hp T4030 models, and reaches rated power at just 2,300 rpm, with the benefit of reducing noise. The 600 hour service intervals will lower operating costs.

The 86hp T4040 and 97hp T4050 models are powered by the turbocharged four-cylinder 4.5 litre NH NEF engine with intercooler. Rated power is reached at 2,300 rpm, and fuel consumption is 8-9% lower than the previous Tier II engine. A thicker, engine block reduces noise and vibration levels.


A wider range of transmissions
New Holland leads the field in this tractor segment with a wide selection of transmissions, meeting even the most specific requirements. The T4000 four-wheel drive tractors have 28 x 16 Shuttle Command™ transmissions with 200 metre/hour supercreep up to 40kph as standard. There are plenty of other options available:
A new 16x16 Synchro shift with power shuttle 0.800m/hr to 40kph transmission offers a simple economy transmission with wet shuttle clutch pack
32 x 16 Dual Command™ 0.500m/hr to 40kph transmission with Power Clutch, allowing use of 8-speeds with no need to use the clutch pedal;
44 x 16 Dual Command™ 0.200m/hr to 40kph transmission with Power Clutch and supercreeper.
A Powershuttle reverser, mounted on the steering-wheel, allows the travel direction to be reversed under load, further increasing the productivity of the T4000 range.
More hydraulic power
Operators will feel the benefit of greater hydraulic power. The flow rate of the standard tandem pumps is now 71 l/min, climbing to 100 l/min with the optional MegaFlow™ pump (standard with Powershuttle), which includes an oil cooler.

The mechanically controlled rear linkage has an increased lift capacity of 2900kg. Electronic control is also available for this unit, while optional front hydraulic linkage and PTO can be added to create a versatile package to handle a wide range of implements.


First class comfort
The cab of the T4000 tractors has been restyled to increase both the operator comfort and safety. The low overall height makes it easier to access low buildings, while the low centre of gravity offers greater safety in all working situations, especially on slopes.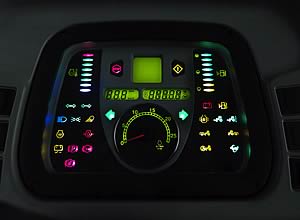 All this has been achieved without penalising the operator's working environment, which has actually been made more comfortable. The improved pressurisation of the optional Blue cab, is complemented by thermostat controlled air conditioning and carbon filtration, essential in ensuring a healthy cab environment during pesticide applications or in pollen-laden and dusty conditions.

The restyled interior offers convenient control layout and greater comfort. The new analogue-digital console combines the best of both technologies to give the operator a clear, immediate read-out of the engine rpm, pto rpm and forward speed.

The CAN-bus technology improves communications between the tractor's electronic systems, cuts down and simplifies the wiring, and allows quick identification of any failures, improving reliability and speeding up servicing procedures.

All models are available on either turf or agricultural tyres to suit both amenity and farming applications

New Holland TD5000 Series Builds on Proven Values


New Holland T5000 Series Breaks Into the +100hp Sector


Claas Disco Contour Mower Range Extended