26/03/08
A new range of nutritional supplements formulated to help progressive dairy and beef herds tackle the major threats to profitability has been launched by global feeding solutions company Alltech.
Alltech's ruminant technical manager
David Wilde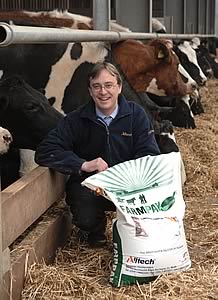 Initially available in three distinct formulations that target key performance areas, the Farm Pak products are supplied in 25kg bags for inclusion in farm-mixed rations at a standard inclusion rate of 50g/head/day for adult cattle.

Farm Pak Elevate (for optimum udder health, hoof condition and fertility), Farm Pak Rumenate (for improved rumen function), and Farm Pak Immunate (for optimum immune status in the calf and dry cow), each provide a powerful synergistic combination of proven and established Alltech feed supplements.

"The challenges faced by high-performing herds are complex and varied and very often the solutions may be multi-faceted," says Alltech's ruminant technical manager David Wilde. "In most cases it is better to tackle the performance-limiting issues through prevention rather than cure, and that's really what the Farm Pak range is designed to do.

"We have combined the strengths of many well known brands in specific formulations that are designed to help high performing herds move smoothly to the next level of performance.

"The Farm Pak products are a flexible and highly accessible solution, as they can be readily added to the TMR or fed at the feed face all year round. We see these products as a vital part of an overall "contract of excellence" that progressive producers will have with their vets and nutrition advisers."

For further details of the new Farm Pak feeding solution range, contact your regular feed supplier or call Alltech on 01780 764512.

Rearing Surplus Lambs to Improve Flock Margins


High Raw Material Prices Impact on Provimi Results


Combating Korea's Feed Industry Issues