Sales Manager Celebrates 1500th Tractor Milestone
26/02/08
Having sold Case IH tractors since the Case and International Harvester brands merged more than 22 years ago, Graham Goodwin, area sales manager for Ernest Doe Power's Framlingham branch, has sold more than 1500 tractors to date.
Gerald Silvey (EDP Group Case IH Sales Manager), Matthew Foster (Case IH Business Director UK/ROI), Graham Goodwin (EDP Area Sales Manager) and Andy Whiley (Case IH Area Sales Manager)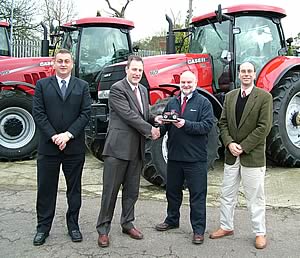 Celebrating this milestone and receiving his award from Matthew Foster, Case IH Business Director UK/ROI, Graham remarked "The brand has a great heritage and with products like the impressive Quadtrac and the new Quantum C tractor, I'm looking forward to my 2000th sale."
Graham's 1500th tractor sale was a Case IH Quadtrac 430 to RH Forrest & Co. based at Stonham Aspal, Suffolk. The Quadtrac is a very different machine to the first Case International 885XL tractor he sold to Welham Brothers at Tuddenham in May 1985, a tractor that is still running today.
James Forrest from RH Forrest & Co has had a long-standing relationship with Graham and Ernest Doe Power, so when the time came to move to a bigger machine, the Quadtrac 430 fitted the bill. "We've run tracked machines for more than 15 years and we're impressed with the Quadtrac's ability to transmit power to the ground. More traction and more power have enabled us to move to bigger equipment, but it also ensures we have the capacity and flexibility we need. Timeliness is essential for our primary cultivation and the Quadtrac is performing very well," said James.

Kuhn Offers More Options in Verge and Hedge Maintenance


Case IH Doubles Combine Harvester Sales


Trials Show Claas Axion Has the Power to Perform