The Roundhouse Wins top CLA Award
22/01/08
What has been described as "an ingenious concept for housing livestock" has won the CLA President's Award for the best new build in England and Wales.
CLA regional resident Charles Harle, left, presents the award for best new build in England and Wales to John Allinson, centre, and Geoff Simpson.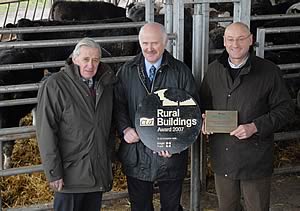 Designers of the Roundhouse, Geoffrey Simpson and John Allinson received the prestigious national award from regional CLA president Charles Harle at the farm of one of their clients, John Hodgson, at Summerhouse, near Darlington, on Friday (January 18).

Mr Hodgson started using the building for finishing cattle in October 2006 and he is delighted with the health of his animals and their ease of handling in the revolutionary building at Summerhouse Grange.

The Roundhouse concept dates back to the Bronze Age, making full use of natural air flows with its modern design and materials not only optimising welfare but reducing operational costs as well as blending into its surroundings.

The open-sided building is divided into segments, each opening into a central handling pen area which can be adapted to individual producer's requirements.

And such is the interest in the award-winning concept that three new installations have been made in the last three months.

Roundhouse Building Solutions, a separate company set up by steel framed buildings manufacturers Simpson and Allinson in Barnard Castle, now has its 12th order for the unique building – recent builds include one to house suckler cows and calves in Dalrymple, Ayrshire and another for organic pigs in Lambourn, Berkshire.

Angus Collingwood-Cameron, CLA Director North East and one of the judging panel, said: "All the judges were extremely impressed with the Roundhouse and felt that the National Award was clearly justified for this ingenious concept for housing livestock, based on a design which actually goes back to the bronze age.

"Its modern design and materials have created a unique building, not only optimising animal welfare, but significantly reducing operational costs. The roof is made from tensile fabric of high strength and designed to blend into its surroundings.

"The design allows easier, safer handling, better air flow therefore reduced veterinary bills, and initial results indicate an increased weight gain so a reduced finishing time. I am sure that this design will become a common site on UK farms and will also find other applications.

"It is precisely the kind of building that we hoped the Awards would uncover; one that demonstrates a contribution to both environment and economy, and is one that thoroughly deserves public recognition."

The award comes five years after the first prototype building and Mr Simpson is delighted with the win. "A lot of time and effort has gone into the design by myself, John Allinson, others in the team and by the prototype owning farmers too," he said.

"From the start we knew that round would be a winning shape and we have persevered to bringing the concept to market," he added.

John Hodgson finishes around 500 heifers a year, buying them in as strong stores and finishing them over a three month period at 18 to 20 months old on a total mixed ration and selling them through Darlington market.

The Roundhouse will house up to 150 animals based on 20 cattle weighing 450kg in each of the segment shaped pens.

"When we first saw a Roundhouse my son Nick and I immediately said this is the building we want. It is so easy for handling cattle but the health benefits are probably the most important.

"We don't have a vet's bill now except for vaccination! "We have no cases of pneumonia and the cattle are always content. They are also cooler in the summer.

"Handling the animals is much safer. We can feed the cattle in less than half an hour and we can muck out the whole building in under five hours."

The Roundhouse, which is constructed in a standard size with a high strength tensile fabric roof, is of comparable cost to a conventional building but has the added benefit of the central handling area which can be fitted with a weighbridge or crush or other extra equipment.

The Roundhouse - An Innovation in Agricultural Buildings


Looking at the Need for Effective Cattle Buildings


Landini Alpine Tractor Reaches the Parts ...