13/12/07
Sandy Ramsay, has been appointed Group Manager of SAC Farm Business Services, that is the arm of SAC that provides business and technical consultancy services to Farmers through Scotland.
Iain Riddell (left) with Sandy Ramsay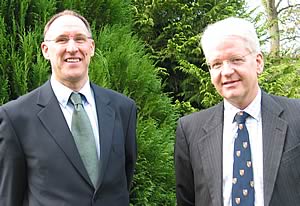 And, filling Sandy's current post as Manager of SAC Select Services is Iain Riddell, one of Scotland's best known beef and sheep specialists. Iain will manage SAC's specialist agronomy, beef & sheep, dairy, rural business, food marketing, organic farming and international consultancy services.
These moves, which take effect from the first of January, have come about with the retirement at the end of the year of SAC Farm Business Services Group Manager, Dr Stuart Somerville. For the last five years, Stuart has managed SAC's Scotland-wide network of farm business consultancy services.
Speaking of the future for the industry he said,
"Scottish farming faces many challenges including climate change, increased regulations and control, and volatility in production prices. Our role at SAC is to be there to help the industry face these challenges.
"It has always been my clear view that the primary objective of SAC Farm Business Services was to improve the long-term profitability of farm businesses. I am confident that under the leadership of Sandy Ramsay SAC can continue to achieve this objective."
Since 2003, Sandy Ramsay has run SAC's Select Services Group which has achieved significant successes including the establishment of Monitor Farms, the provision of food marketing advice and the growth of SAC's international consultancy services. As Farm Business Services Manager he will now have responsibility for SAC's 24 local offices from Shetland to St Boswells and Stornoway to Stonehaven as well as the recently established North of England Office in Wooler.
Sandy said "I believe that SAC is in a unique position to provide farmers and rural business with the support and services that they need at a time of fundamental change to support mechanisms and increasing global competition. By improving and enhancing the viability of farm and rural businesses, SAC can help establish the long-term growth and sustainability needed in our rural communities. I am delighted to be given the opportunity to manage SAC's services to farmers."
Iain Riddell who is perhaps best known for introducing the Monitor Farms concept into Scotland is keen to take up the challenge of running SAC's Select Services. He said,
"There are big challenges, but there are also substantial opportunities out there, and our aim is to grow our business so that we can assist our clients to improve their businesses both at home and internationally. Our diverse range of specialist teams covering Beef and Sheep, Dairy, Agronomy, Food Marketing, Rural Business, Farm Accounts and International Consultancy, allied to other SAC services, allows us to offer a unique integrated consultancy service to our clients.
"I am greatly looking forward to leading Select Services at a very interesting time for agriculture and rural industries."
Notes for Editors
Dr Stuart Somerville joined the East of Scotland College of Agriculture in 1976, initially in the Animal Production Advisory and Development Dept. In 1977 he became a general adviser working in the Lanark Office where, apart from a short secondment to Campbeltown, he has been based ever since. In 1987 Stuart became SAC regional manager (south west) and for the last ten years has been involved in managing the Farm Business Services Group initially as deputy to Jim Seton and, for last five years, as Farm Business Services Group Manager.
Stuart was heavily involved in hill sheep production through the Hill Sheep Development Project in the late seventies/early eighties. He was instrumental in developing SAC's farmer subscription schemes which have stood the test of time; today, SAC has over 7000 farmer and crofter subscribers. More recently he has led SAC's development in the north of England.
Stuart is committed to training and, in the early part of his career, was engaged in training initiatives with Young Farmers' Clubs - judging their Rent A Farm competition on a number of occasions. This commitment has remained with him throughout his career and, in the early nineties, he was instrumental in developing SAC's computer training courses which proved very popular with the industry. He has managed the Lanarkshire Rural Training Group for over ten years.

Sandy Ramsay has been with SAC for over 25 years, spending his early years with Basil Lowman developing his interests in beef production followed by a number of years working from SAC's Turriff office as a general adviser. Recognising the fundamental nature of the need for good financial and business management for all rural businesses Sandy moved in the Rural Business Unit in Edinburgh, latterly as a senior adviser in charge of the Edinburgh RBU team. When in the RBU, during the early 1990's, at the height of the early CAP reforms in the arable sector Sandy took a lead role in the dissemination of information on the new regulations and was prominent at a large number of events around Scotland including six consecutive Outlook Conferences. He was awarded the R C Stewart Prize for Extension in 1994 for his work in this area.
In 1999 Sandy moved to take charge of SAC's farming operations which extended to 5 farms and 10,000 acres a role that was latterly extended to include all of SAC's estate holdings. In 2003 Sandy was appointed Group Manager of SAC Select Services. During his time in this role the group has expanded and now delivers technical and business consultancy all over the world, in a wide range of disciplines.
Sandy has been active in the delivery of training particularly in the areas of business management and was the project leader for the recently concluded Scottish Enterprise Rural Leadership Programme. As a member of the Institute of Agricultural Management he maintains his specialist interest in farm and rural business management and enhancing business viability.
Iain Riddell has been the leader of SAC's Beef and Sheep Select Team since 2003 and is responsible for the promotion and delivery of SAC's beef and sheep technical and business advice. He is currently SAC co-ordinator of the *Scottish Monitor Farms Programme for which he received the Inverarity Prize for Business Innovation in 2006 having introduced the concept to Scotland following a Farmers Club Charitable Trust scholarship to New Zealand in 2000
Among his recent achievements are the development, in 2003, of benchmarks for improving suckler herd fertility along with colleagues George Caldow and Basil Lowman. He has also played a major role in developing and supporting SAC's network of seventeen Beef and three Sheep Groups and regularly contributes to continuing professional development courses for vets in large animal practices. . Iain was also involved in setting up Scotland's first beef production and marketing co-op, Borders Quality Beef Co-operative. Earlier this year he led the North Group of the Scottish Enterprise funded Rural Leadership Programme.
A farmer's son from Kemnay in Aberdeenshire, Iain is an Agriculture graduate of Aberdeen University. He joined SAC in 1980 as a general adviser at the Elgin Office. >From 1981 to 1987 in addition to his advisory work Iain was Manager of SAC's Aldroughty Farm. From 1987 -1989 he worked as a general adviser based at the Stonehaven Office and then from 1989 to 2003 as a Senior Agricultural Adviser based at SAC St Boswells in the Borders prior to leading the Sheep and beef Select team.
Well known as a speaker at farmer meetings and industry events, and a facilitator at discussions group meetings, Iain is also a prolific contributor to the press.

Lothian and Borders Farmers Invited to Participate in New Arable Monitor Farm


Telecom Operators Sharing Sites - Land and Property Owners Beware


Government Falls Behind on Wind Farm Targets