Joint Disease Initiative Should First Tackle Government Inefficiency
12/12/07
Government pursuit of its own aims from responsibility and cost sharing on animal disease issues will be determined – but the project is a joint exercise and farmers must insist from the beginning that progress should be results based and follow the sequential adoption of precisely defined stages of development, the National Beef Association said today.
NBA chairman, Duff Burrell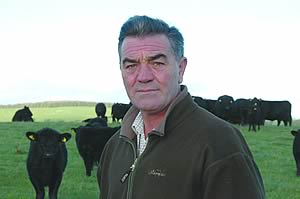 Speaking in response to yesterday 's (December 11th) launch of the long anticipated consultation on a new English approach to disease management the Association's chairman, Duff Burrell, made it clear that while there was no avoiding government interest in the issue there was no need for farmers to jump all the fences in a hurry.

"An important animal health issue like this should not be rushed. We know government is seriously short of money and anxious to push this cost sharing exercise to a quick conclusion," explained Mr Burrell.

"But farmers, who can also benefit from this exercise if it is handled properly, must resist a hasty approach and put forward a timetable of their own which covers careful appraisal of each stage of development.
According to the NBA the primary issue is to discover exactly where government money is presently spent and then work with officials and Ministers to put forward alternatives that make improved animal health more cost effective and efficient.

It also thinks that other issues like talks on the development of a disease levy system, or the formation of an independent umbrella organisation like a Disease Control Agency on which farmers are represented, should be put on hold until the worst of current cost and administration problems are addressed.

"First things must come first. Current TB controls are an abject failure and must be fundamentally reviewed. In 1998 just 1,668 herds were under movement restriction but last year there were 5,848 and there were a further 20,000 herd tests too," said Mr Burrell.

"The role of Animal Health (formerly SVS) must also be critically examined. Very few farmers are familiar with all its functions and I would be very surprised if all of its activities cover work the industry currently requires and real cost saving could not be made in other areas too."

"The NBA also wants to steer government away from any talk about an on-farm levy to fund the exercise. My fear is that if a levy is forced through in the initial stages it will be too easy for government to raise the payment level as soon as it is short of money - instead of initiating management efficiencies that reduce its costs instead."

"During these discussion processes it will be possible for both farmers and government to judge the benefits and potential of the partnership approach."

"And it will be interesting to see if government decides to back off from responsibility and cost sharing if farmers are successful in moving developments in a jointly beneficial way. Indeed if farmers play their hand properly it may find that it is Ministers and officials who are having second thoughts about keeping their place at the table," Mr Burrell added.

Relief as Ewe Payment Set to Hit Bank Accounts


NFUS Urges Prompt LFASS Payments Despite SRDP Delay


NFUS Tells Lords of Long-Term CAP Vision