Pneumonia Outbreak Trials Highlight Efficacy of Combination Treatment 29/11/07
Pneumonia treatment trials on commercial farms across the UK show that the use of an antibiotic in combination with an anti-inflammatory will deliver marked animal recovery. Combination therapy with Resflor is also more effective than antibiotic alone when it come to minimising the pneumonia-induced lung damage that will stop the animal reaching its lifetime growth potential.
Trials show that treating pneumonic calves with Resflor will deliver 37% less lung damage compared with animals treated with antibiotic alone.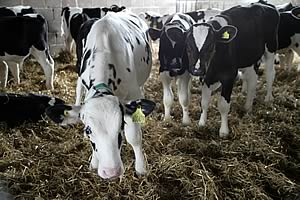 "Seventeen pneumonia outbreaks were monitored last winter by vets in practice," reports Schering-Plough livestock veterinary adviser Andrew Montgomery MRCVS. "On the first veterinary visit, calf temperatures were taken as an indication of the severity of the pneumonia with depression and respiratory scores also recorded. The animals were then treated with the innovative Resflor pneumonia treatment that combines antibiotic and anti-inflammatory therapy within in a single injection. As little as six hours later the independent vets re-visited the units to assess the success of the treatment.

"Across the 17 outbreaks, all calves that were particularly sick – identified as those with an average enrolment temperature of 104ºF or over – recorded an average fall of over 2ºF within six hours of the combination treatment injection. This brought the temperature down to well below the accepted 103ºF fever threshold.

"The respiratory and depression scores also markedly improved within six hours. Farmers also reported visible improvements and marked animal recovery immediately post-treatment," he says.

Andrew Montgomery points out the Resflor combination treatment will also help minimise the growth-rate limiting lung damage that pneumonia can cause. "Trials have shown Resflor will deliver 37% less lung damage compared with cattle treated with antibiotic-alone," he points out.

UK Poultry Farmers Could Lose £30m at Next Bird Flu Outbreak


NFUS Stunned at Further Pirbright Foot and Mouth Virus Failure


Abattoir Study Highlights the Need for Cattle Lung Protection Therapy