03/10/07
Introducing rumen protected fat to winter dairy rations can increase yields by more than four litres per day throughout the first half of lactation and improve net income, according to results from trials at the University of Reading.
Megalac is a combination of palm fatty acids and calcium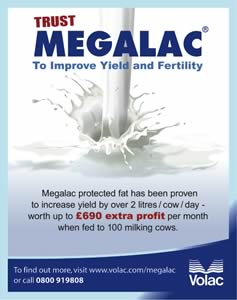 High yielding Holstein Friesian dairy cows from the University's Centre for Dairy Research (CEDAR) herd, averaging 9,650 litres, were introduced to one of two diets at calving in a study sponsored by Volac International. Diets were formulated to supply similar concentrations of protein and fibre, but differed in energy concentration: the control diet had an ME of 11.6 MJ/kg DM, while the treatment diet, supplemented with Megalac rumen protected fat, had an ME of 12.1 MJ/kg DM. The diets were fed for the first 17 weeks of lactation, with dry matter intake and milk production recorded daily, and live weight and body condition score recorded on a weekly basis.
"Cows offered the higher energy diet produced significantly more milk, with an average increase of 4.3 litres/day throughout the study, compared to cows offered the control diet," comments the University's Dr Patricia Aikman. See Table 1.
Table 1: Performance of cows offered diets differing in energy density during first 17 weeks of lactation
Control diet
(ME 11.6 MJ/kg DM)

Megalac-supplemented diet
(ME 12.1 MJ/kg DM)

Dry matter intake (kg/day)

22.6

22.2

Milk yield (litres/day)

35.7

40.0

Live weight (kg)

627

634

Body condition score

2.07

2.06
Source: University of Reading

"Furthermore, we found that despite achieving major improvements in performance from similar levels of dry matter intake, body condition scores were identical between the two groups of cows," says Dr Aikman adding: "The trial confirmed that one of the main benefits of feeding Megalac is its ability to increase the diet's energy density without increasing acid load in the rumen and compromising rumen function. Hence, energy intake is increased without the risk of acidosis as is the case when feeding high cereal levels."

"Introducing any form of supplement comes at a cost, however this study demonstrates that adding rumen protected fat is very cost-effective, particularly in the present climate of milk undersupply and accompanying milk price incentives," comments Volac International's Ian Watson. "For example, incorporating the ingredient into the diet typically costs around 23p per cow per day, and with selected dairies offering 25ppl or more, significant improvements in net income can be realised."

He adds: "With UK milk production down by more than 4% on the year and the industry struggling to keep pace with demand, the CEDAR trial findings have confirmed there is every reason for farmers to realise their cows' potential and exploit the new market opportunities cost-effectively by introducing rumen protected fat to winter diets."

Rapid Finishing of Cattle Still Provides Best Returns


Applications Open for New Energy Crops Scheme


Global Threat to Pork Industry