Explosive Northern Ireland Red Meat Industry Task Force Report
08/10/07
Retailers, processors and farmers in the rest of the UK cannot ignore the explosive recommendation from the Northern Ireland Red Meat Industry Task Force (NIRMITF) that hill beef production within the Province should be wound down inside six years, unless a premium of 75p-120p per dwkg above current market rates of around 194p (current R3 price) is paid for suckled calves sold into locally branded retail beef schemes, reports the National Beef Association.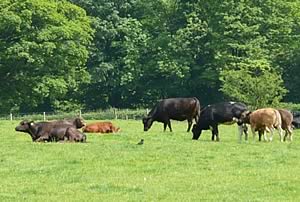 It says, that in basic terms, the industry-government group has concluded that upland suckled calf production has no chance of surviving in Northern Ireland unless it is rescued by a huge lift in the retail value of suckler beef.

And that beef sector development in the Province should concentrate instead on the expansion of dairy-bred beef production through carefully modelled, fully integrated supply chains, which are led by processors and have the scale to develop substantial cost reduction – as long as these too are backed by significant, 30p per dwkg, price rises at farm level.

"The problems that face the UK beef industry could not have been put more plainly. While it is true that Northern Ireland faces special difficulties stemming from endemic discounts on cattle prices, extremely fragmented production structures and higher costs, its situation is essentially similar to that faced by the beef industries in England, Scotland and Wales," explained NBA director, Kim Haywood.

"It is both depressing and alarming that the NIRMTF confirms that production losses within the Province for beef as a result of the huge imbalance between production costs and market income are in excess of £180 million a year and that the vast majority of farmers are using SFP to cover these costs."

"It then recommends that if retailers and manufacturers cannot commit themselves to a significant lift in farm gate prices, suckled calf breeders should use their SFP to smooth their way to a planned exit from beef production instead of continuing to use it to fight an economic battle they have no chance of winning."

According to the NBA the plain nature of the NIRMITF's conclusion will detonate throughout the UK beef industry and it is retailers and burger manufacturers who must answer the most immediate question.

"The Task Force report makes it clear that while the major retailers have said they wish to buy cattle from a sustainable local supply they, and their customers, have also said they are not prepared to pay more to cover the costs of an inefficient supply chain." said Ms Haywood.

"The NBA has always said that the UK beef industry can only survive if there is a substantial rise in farmers' market income and farmers themselves introduce equally substantial cost savings to their businesses."

"Retailers now need to tell the industry, as quickly as they can, just how much cost they consider is reasonable for an efficient producer to turn out a high specification supermarket carcase and then how much margin should be added to that to keep the producer in business."

"If producers of both suckler and dairy-bred beef cattle in Northern Ireland, and the rest of the UK, are given an accurate answer to this most important question they will then be able to decide, on an informed basis, whether it is worth pursuing further cost efficiencies or whether it makes more sense for them to get out of beef production as fast as they are able," Ms Haywood added.



UK Government Must Compensate, Says NFUS


NFU Scotland to Pursue Legal Action Against Defra


NFUS to Host Introduction to SRDP 2007-2013 Meeting