Longer-living ewes can make a major contribution to the improved performance of English half-bred flocks, according to the final report of the 10-year Longwool Improvement Project conducted on behalf of the English Beef and Lamb Executive (EBLEX) and Hybu Cig Cymru/Meat Promotion Wales (HCC).
Blue-faced Leicester ram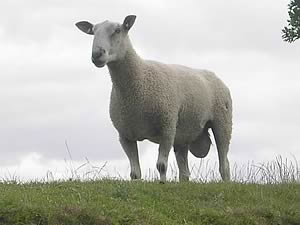 The project, undertaken by MLC with Defra, the Institute of Rural Sciences, SAC and ADAS, has involved the detailed evaluation of the performance of seven annual lamb crops from nearly 2,600 Scottish and Welsh mule ewes bred from Blue-faced Leicester rams of known genetic merit for carcase quality. It has led to the development of a sire selection index offering the opportunity to substantially improve the overall performance of the 2.3 million mule ewes that currently make up a third of the English breeding flock.
So valuable has the project shown ewe longevity to be, both economically and genetically, that it forms the single most significant component trait in the emerging Longwool Index.
The particular importance of ewe longevity in the Index stems from four main elements – the economic importance of the trait; the substantial variation that exists in it between breeding rams; its reasonable heritability; and, the fact that it shows little or no negative association with important growth and other carcase traits.
The project's assessments of the reproductive performance of ewes lambing between 2000 and 2006 show the average number of lambs reared per ewe put to the tup increasing steadily to five years of age, improving lamb output. At the same time, its economic calculations highlight worthwhile cost savings from lower flock replacement costs with increasing ewe survival rates, offset slightly by lower cull ewe revenues.
At a ewe replacement cost of £75, the project establishes the net benefit of a one-year improvement in flock average age at a very considerable £11.20 per year per ewe lambing.

The project also identifies an actual variation of over 1.5 years in the longevity of ewes bred by different rams, together with a moderately high heritability of 30% (similar to many carcase traits) suggesting that considerable progress can be made through breeding.
At the same time, the low and non-significant genetic correlations established between longevity and growth and carcase quality traits indicate this progress is unlikely to have adverse consequences on these other important performance characteristics.
Practical advice on using the Longwool Index as part of flock performance improvement efforts will be made available free to English levy payers through the Sheep Better Returns Programme as the new breeding tool is finalised for industry use. Full details of the programme and associated EBLEX Lamb Action for Profit fact sheets can be obtained at www.eblex.org.uk or on 0870 2418829.

It's Been a Roasting Summer!


UK Beef Exports Hit £122 Million


Beef Supply Shock On the Way