New Separation System for John Deere Combines
31/07/07
Increases in power, separation capacity and output, particularly in difficult crops and conditions, are the key features of John Deere's combine harvester range for 2008, which includes brand new market leading separation technology on the latest T Series models as well as updates to existing machines.
John Deere T660i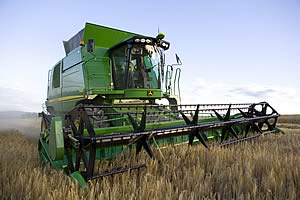 The new T Series combines incorporate a tangential tine separator (TTS), which has an active separation area of 3.36m2 on the six-walker models, the largest on the market. This new technology has been in development since 2001, and has been fully tested in all the major European crops. Pilot build machines are working in the 2007 harvest, with the range due to start full production in 2008.
Previous WTS (walker tine separation), CTS (cylinder tine separation) and STS (single tine separation) combines have been superseded by the W, C and S Series models respectively, employing the same separation systems as before, while the smaller 1450 205hp and 1550 250hp Series II models remain unchanged. The new John Deere 2008 combine range now lines up as follows:
Model

Power rating (maximum hp)

Platforms (ft)

Grain tank capacity
(litres)

W540

255

18 - 22

8000

W650 & W650i

318

18 - 22

9000

T550 & T550i TTS

290

18 - 20

8000

T560 & T560i TTS

350

18 - 20

10,000

T660 & T660i TTS

350

18 - 25

11,000

T670 & T670i TTS

400

18 - 25

11,000

C670 & C670i

400

25

10,000

S690 & S690i

530

30

11,000
All these models are also available with the optional Hillmaster II levelling system, which offers full harvesting performance on slopes up to 22 per cent. The i Series models from the W650i to the top of the range S690i are equipped as standard with HarvestSmart automatic feedrate control, AutoTrac assisted steering and Harvest Doc software. These versions offer an additional capacity of 23 per cent compared with their non-i equivalents.
The two W Series machines effectively replace the previous 9560i and 9640i WTS combines, but apart from changes in horsepower their basic specifications remain unchanged. The new 400hp C670 offers a seven per cent increase in output compared with the 9780i CTS, its 373hp predecessor.
The top of the range S690 combine replaces the 9880i STS model, with an increase in horsepower from 493 to 530hp. This flagship model retains the exclusive high performance rotor and high unloading rate, folding auger. The S690i Hillmaster combine complete with HarvestSmart and AutoTrac remains the highest capacity self-levelling combine on the market.
New T Series combines
With the introduction of the TTS system, John Deere now offers customers five distinct threshing and separating technologies on its combines. The new system improves separation capacity and therefore combine output by 15 per cent compared with the previous WTS machines, while maintaining the same excellent grain and straw quality and low fuel consumption. This improved output is particularly noticeable when working in damp conditions or with high volumes of straw.
The 660mm diameter threshing cylinder, which is identical to that used on the W Series combines, has 10 rasp bars and runs at speeds from 450 to 990rpm. Material is stripped from the main threshing cylinder via a smooth roll turning 125 per cent faster than the threshing cylinder. Then an overshot rear beater smoothly transfers the crop towards the tine separator, where gravity takes over and drops the crop between the tine separator and its concave, ensuring optimum straw quality.
The tine separator has eight staggered tine bars mounted at an angle of 45 degrees to comb the trapped grain from the crop mat. Its speed can be adjusted from 900rpm for small grains down to 450rpm for other seeds. The huge 1.3m2 or 1.56m2 concave (on five- and six-walker models respectively) uses the same patented finger grates developed for the C Series combine, which are self-cleaning to provide an uninterrupted crop flow and eliminate blocking. From here, crop material is transferred to the straw walkers via a second rear beater with a two-position adjustable grate.
The power separator that was mounted above the straw walkers on 9000i Series combines is still featured on the two new W Series models, but is not used on the T Series combines. In addition, the new seven step straw walkers on T Series models are shorter than the 11 step W Series versions, because of the greater active separation area.
New S690 combine
The flagship S690 combine is powered by a new John Deere PowerTech Plus 13.5 litre Tier 3 engine, with similar exhaust gas recirculation and variable geometry turbocharger technology to that featured on the company's latest 30 Series tractors.
This six-cylinder engine provides seven per cent more power, while maintaining the same fuel efficiency and serviceability of the previous 12.5 litre unit. It also generates a power boost of up to 33hp during unloading. The new Auto Prime feature provides automatic bleeding of the fuel system, and the combine is fitted with a massive 1155 litre fuel tank.
In the cab, the newly designed operator station includes a CommandArm control console, CommandCenter display and CommandTouch cornerpost for increased functionality and easier set-up and control of the combine.
Improvements have also been made to the DynaFlow II cleaning system. Increased fan speeds and redesigned wind boards provide improved air distribution, and combine with a 20 per cent increase in sieve stroke to give up to 10 per cent more cleaning shoe capacity when required.
In the discharge area of the separator, the new EasiFlow discharge housing enhances crop flow into the straw residue management system, which has improved residue distribution and chop quality. Secondly, a new discharge beater grate with an increased separation area improves separator performance by up to 10 per cent when necessary, particularly in dry brittle straw conditions or when harvesting oilseed rape.
New AMS options
For the 2008 harvest, owners of these new John Deere combines will be able to choose either the Original GreenStar or GreenStar 2 systems for operating Harvest Doc software. The on screen mapping facilities of the 2100 and 2600 GreenStar Displays offer a new perspective on harvesting operations, with the ability to view yield and moisture maps directly in the cab.
Contractors in particular will appreciate the ability to log field boundaries, measure true field areas and print field or load totals from the cab using the GreenStar printer. In addition, from January 2008 Farmade's new Gatekeeper Essentials + Maps desktop software will allow GreenStar 2 users to further analyse their yield and moisture maps, record all in-field operations and create variable-rate application plans.

John Deere Announce New 5003 Series Tractor Line-Up


Case IH Harvester Set to Transform Cotton Industry


John Deere to Acquire Chinese Tractor Company