05/07/07

Organisers of the Great Yorkshire Show are urging visitors and exhibitors to consider alternatives to driving to the event next week.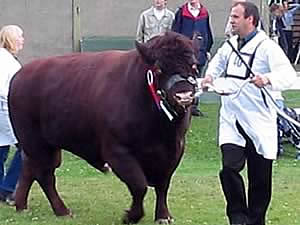 With record breaking rainfall in June, the Yorkshire Agricultural Society has sent around 13,000 letters to all members, sponsors, exhibitors and advance ticket holders asking them to consider car sharing, travelling by train and using the free shuttle bus service from Harrogate town centre and Hornbeam and Starbeck train stations.

The north's largest agricultural event, the Great Yorkshire Show takes place at the Great Yorkshire Show Showground from Tuesday 10 - Thursday 12 July.

Show Director Bill Cowling said: "The show will go ahead but we have had exceptional amounts of rain recently. Although the site is standing up well, a couple of our car parks are currently very wet and out of action so we cannot guarantee a parking space for everyone.

"I would urge all our visitors to think of ways to help reduce the traffic and thus the pressure on parking spaces, and using the rail network and free buses may well mean that you get to the showground quicker. It may be that you can share your journey with a neighbour, friend or member of the family. If you live in Harrogate, perhaps you could walk or catch the bus to the showground. We also have a free cycle park on site."

Last year's Great Yorkshire Show saw a record breaking attendance figure of 135,111 when some 45,000 cars were parked on site over the three days. This week the Yorkshire Agricultural Society decided to increase the number of buses from Harrogate town centre, Hornbeam Park and Starbeck rail stations. As a result of the recent rainfall, extra trackway and wood chip has also been bought for use on the Showground.

Mr Cowling continued: "The weather forecast for next week is relatively good, but it is changeable and unless the ground dries substantially we do have some car parks which we won't be able to use.

"Much of the show is under cover - we have a 4,500 seat grandstand, the huge Food Hall, Flower Show, and Fashion Pavilion. The cattle and sheep are all housed under cover, plus we have eight miles of tarmac roads within the site, so the vast majority of the show is easily accessible."

Ground conditions at the Showground will be monitored up to and throughout the Show, and any updates can be viewed on the website at www.greatyorkshireshow.co.uk.

All Set for the Great Yorkshire Show


Record Breaking Livestock Set for the Great Yorkshire Show


A Taster for the Year of Food and Farming at the Great Yorkshire Show