Rat Watch Bulletin
10/05/07
Protect silage stacks from rats this spring
Rats could make a bee-line for baled silage stacks this spring, as they look for safe nesting sites close to convenient food sources, according to Dr Jonathan Wade of Hampshire based rodenticide manufacturer PelGar International.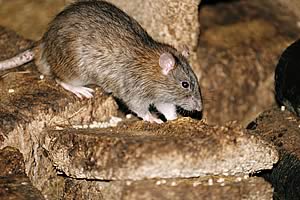 "Rats have generally stayed away from farm buildings this winter, as the higher than normal temperatures have kept them out in the fields," says Dr Wade. "Populations are also higher than usual for this time of year, as fewer rats have died from the cold. These guys must be getting hungry by now as there won't be much left in the wild to eat.

"As rats start to breed they will need to increase their calorie and protein intake significantly, and silage stacks will provide ideal nesting sites for them near to rich on-farm feed sources, such as compound feed."

Rats burrow and nest in the bottom of round bales – tearing through the plastic wrapping and letting air into the outer layers of silage. This causes aerobic spoilage which can create black, slimey mould likely to contain listeria bacteria. Listeriosis can affect humans and livestock. Any mouldy outer layers of a bale should be discarded and not fed to livestock.

Baiting stacks offers the best protection from rat damage.

"The best time to bait is when the stack is being built, as this is your only chance to place it evenly across the site," advises Dr Wade. "You don't need to bait any higher than the second layer – while rats may climb up to have a look around, they will spend most of their time nesting at the bottom.

"'Place packs' or sachets of rodenticide such as Roban Whole Wheat or Rodex Whole Wheat, which are highly palatable and supplemented with attractive ingredients, are the most effective way of baiting stacks. They are robust enough to be handled but easily broken into by the rats. One or two packs should be placed at every junction on the bottom layer of bales, and at every other junction on the second layer.

"Some farmers just net the outer edge of the stack – but this has to be a narrow mesh with no breach in it at all, to keep rats out."

The outer packaging of Roban and Rodex place packs is waterproof yet completely edible by rodents. Each sachet is fully labelled with safety information and instructions for use.

Badgers as Common as Foxes - Defra Survey


Final epidemiology report into Avian influenza outbreak in Suffolk published


New Initiative to Help Dairy Farmers Beat Calf Scours