29/05/07

The British Cheese Board anticipates that more than 300,000 cheese samples will be given out at Choose Cheese events around the country this summer.

Choose Cheese in action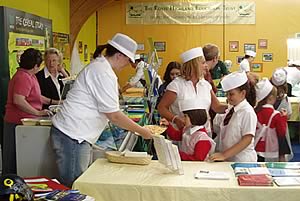 Part-funded by the MDC and run by the Women's Food and Farming Union (WFU), this year's programme is now rolling out and covers 32 major events across Britain, including the national Balloon Festival and the Royal, Royal Highland and Royal Welsh shows.
Now in its third year, the Choose Cheese roadshow offers visitors a range of British cheese to sample, all supplied by British Cheese Board members. "It's definitely successful," says programme co-ordinator and WFU vice president Debbie McBean.
"We go to events that attract a good cross section of the general public. Next month – June – we will be at six events with an estimated total attendance of 400,000.

"People who never thought of trying different cheeses get a chance to sample a few and are very pleasantly surprised. It turns browsers into buyers. And a big eye-opener is the reaction of children, who think all the cheese in the world is cheddar, until they try a Stilton or blended cheese and really like it. These are the consumers of the future and this is a great way of influencing them."

"This is the best way to get people to buy new cheeses," says Nigel White, British Cheese Board secretary. "WFU members are enthusiastic and knowledgeable about the cheeses so they can give them information and recipe ideas too. Thanks in part to MDC funding we are able to run a very full summer programme and bring new and different cheeses to thousands of people."


Four 'Islands' and Five Breeds Represented in 2007 NMR/RABDF Gold Cup


Milk price campaigner receives RABDF Princess Royal Award 2007


New Look for Lancashire Cheese as Website Launched