30/01/07

Producers of Sainsbury's Taste the Difference beef queued on Wednesday evening to sign up for Farm Connections, an innovative scheme to help integrate them into the professional supply chain. The scheme will provide them with free laptop computers, beef enterprise software and full support and training.

Sainsbury's, Greenwich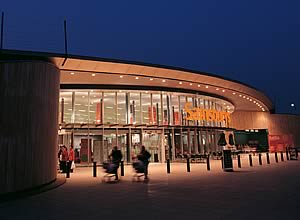 Three hundred and fifty producers who supply premium ranges of beef to ABP destined for Sainsbury's were gathered at their annual meeting in Shrewsbury. They heard about the project direct from the supermarket's Fresh Foods Trading Director, Karen Schenstrom.

"Farm Connections is about connecting all of the links in the Sainsbury's premium beef supply chain," said Karen Schenstrom. "Instead of producers being isolated on their farms, they will have the meat chain at their fingertips.

"I want them to be able to click a button and see everything - from information on carcase quality, to the latest market data and consumer trends.

"Many farmers feel like pawns in the market rather than players - mainly because they are not connected to their buyers, the retail market, the consumer and the wealth of market and price information available online. But getting fully equipped with the hardware, software, training and broadband connection needed is a lot tougher in the middle of the countryside than in the centre of a city.

"With this project we are helping to level the playing field for our producers – by providing the equipment, the skills and the support needed to get started and, importantly, stay running," said Ms Schenstrom.

Farm Connections is a £1million plus project funded by and involving the following partners: ABP, Sainsbury's, Meat South West, Advantage West Midlands, HCC (Hybu Cig Cymru - Meat Promotion Wales), and the Red Meat Industry Forum (RMIF).

Richard Cracknell, Managing Director, ABP said: "We want to make a difference and help farmers to run their beef enterprise better. Hopefully, through Farm Connections, we can do our bit to make our beef industry more competitive."

Glenys Cooke is a partner in a beef enterprise finishing cattle in Gloucestershire who attended the Shrewsbury meeting.

"Farm Connections sounds like an excellent project and I've been encouraging everyone to sign up," she said. "We use a computer on our farm and have really noticed the difference it makes to our bottom line. It helps you track your animals - almost like a computerised herd notebook - from the farm to the abattoir. It helps us to keep an eye on our costs and use the grading and conformation information we get back from ABP," said Mrs Cooke of N&K Cooke & Sons, Severn View Farm.

The Regional Development Agencies and HCC will deliver the training and support services for the project.

"HCC is delighted to be able to extend this excellent opportunity to beef farmers in Wales," said Prys Morgan, Industry Development Manager, HCC. "To help our industry perform to its potential, it is important that we continue to modernise the way we run our beef enterprises. Sainsbury's has helped to make this not only possible, but simple and straight forward with the Farm Connections project."

Peter Barr, Chairman, RMIF (which was instrumental in bringing the parties together), added:

"In New Zealand computerisation is changing the way of life in rural areas as well as improving beef enterprises. It is not going to be easy, but it is very important. One day our beef farmers will be able to track their cattle right through the abattoir all the way to the supermarket shelf. I would strongly urge producers to get involved with Farm Connections."

Farm Connections is available to all suppliers of Sainsbury's Taste the Difference, So Organic and Jamie Oliver 21-day Matured beef in Wales, the South West of England and the West Midlands. For more information, or to sign up to the project, beef farmers should contact ABP on 0845 075 7785 or contact their local livestock buyer.

Farmplan to supply Sainsbury's beef producers


Using Initial OCDS Experience to Plan Ahead


English Beef Makes Top Burgers