23/01/07

The managing director of Waitrose, Steven Esom, will be one of the main speakers at the National Beef Association's Beef Expo 2007 conference at Skipton on Wednesday, May 16.

Beef Expo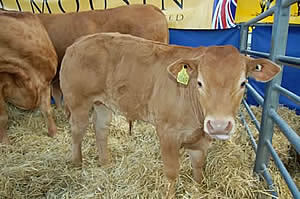 He will join Jonathan Birnie, group agricultural resource manager with Northern Ireland meat processor, Dunbia, and leading Derbyshire beef farmer, Simon Frost, at the conference which takes place on the day prior to Beef Expo at Skipton Market on Thursday, May 17.

The conference is being sponsored by leading meat processors, Dovecote Park Ltd of Stapleton, West Yorkshire, dedicated suppliers of quality beef to Waitrose.

Speaker at the pre-event dinner in Skipton's Rendezvous Hotel following the conference will be retired Kendal lawyer, Michael Winkley.

Earlier in the day, delegates will have the opportunity of visiting three Yorkshire beef farms before returning to Skipton for the conference commencing at 4.00 p.m.

"I would strongly advise those wishing to attend the conference and dinner to apply for tickets right away as space is limited and we have sold out in previous years," said Mr Emslie.

The pre-event conference is always one of the most popular aspects of Beef Expo and regularly attracts more than 400 delegates. The organising committee is delighted to have attracted such high-calibre speakers for this year's conference which will follow the Beef Expo 2007 theme of "Action for Profit."

Mr Esom was appointed director of buying at Waitrose in 1996 and has been managing director since March, 2002. Most of his career has been in the supermarket sector and he was previously with Sainsbury's where his roles included personal assistant to the chairman and latterly senior buying manager. He also spent sometime with subsidiary company, Shaws, in the USA.

Mr Birnie is also a former senior executive of Sainsbury's, where he was agricultural manager before returning to Dunbia (formerly Dungannon Meats) in 2004.

Mr Frost has expanded his farming enterprise three-fold over the past nine years at Hopping Farm, Mawstone Lane, Youlgrave, Bakewell, in the Derbyshire Peak District. His farming enterprise now extends to 420 acres, all grass, with a suckler herd of 120 Limousin x Holstein cows crossed with Charolais bulls with the progeny either sold as weaned calves or finished at 11-12 months, and a flock of 285 North Country Mule ewes crossed with Suffolk rams and the progeny finished on the farm.

He uses only top EBV bulls and high index rams and firmly believes that the "golden triangle" of genetics, management and nutrition is the key to survival in the non-subsidised world of beef production. He places greatest emphasis on carcase gain, based on muscle depth and high killing out percentage, rather than liveweight gain alone.

The conference will be chaired by Anthony Dean, chairman of CCM Group, operators of Skipton Market, and will conclude with a "Question Time" open debate and questions to the three speakers.

Beef Expo is the major technical event for the UK beef industry and each year attracts thousands of beef producers, meat industry executives and trade representatives from all over the country and overseas.

The aim is to highlight technical developments in the industry and enable beef producers to access the latest information and advice on production techniques and market opportunities.

Skipton Venue For Beef Expo 2007


Importers of Irish Beef should avoid double standards on farm assurance


Northwest Stabiliser Project - interest continues to gain momentum