05/12/06

A tiny butcher's shop in rural Northumberland which sources mainly locally-produced meats is earning a countrywide reputation thanks to its new internet sales and award winning sausages.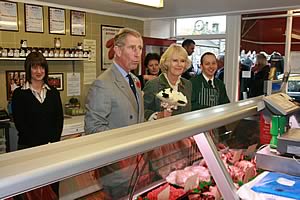 Charles and Camilla in the shop with Morris during their visit to Rothbury.


And Rothbury Family Butchers had a 20-minute long visit from local food sourcing enthusiast the Prince of Wales and the Duchess of Cornwall when they were in the county recently.
Morris Adamson, who opened the shop at Townfoot, Rothbury in 2000, employs a staff of only four where in confined premises they manage to produce more than 30 varieties of sausages, from conventional thin pork to more exotic blends including pork, cranberry and Stilton and venison in red wine.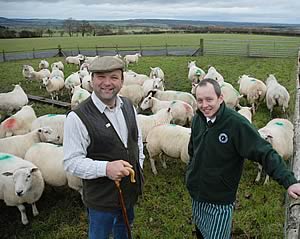 Jimmy Bell, left, and Maurice and ewes in lamb to the Texel at East Wingates


For the second year running Morris has sourced lamb from Jimmy Bell at East Wingates Farm, Longhorsley, only five miles away. Morris also sells free range chickens from Blagdon Farm Shop, at Seaton Burn, near Morpeth and he stresses with his orders to the Whitley Bay Meat Company for beef and pork that they must be produced in Northumberland or the North East.
Morris, who with his wife Maria have three children, moved to Rothbury in 1991 having been manager of the Co-op butchers shop in his home town of Berwick-upon-Tweed.
"I firmly believe in buying locally," said Morris, who as chairman of Rothbury and Coquetdale Business Club is keen to support all local firms.
"I have a ready supply of lamb from 'The Lamb Man' Jimmy Bell, buying up to eight carcases a week to produce all cuts of meat from chops to leg of lamb - and lamb and redcurrant sausages.
"Our eggs are from Christon Bank and we buy rabbits, pheasants and venison from Ponteland. Our exotic meats - which include ostrich - are sourced from a firm in Duns, although they are imported.
"Beef and pork are more difficult to find a regular supply close at hand but I ask for North East produced carcases."
In October, Rothbury Family Butchers, members of the Guild of Q Butchers, scooped seven Smithfield Awards which are among the most prestigious in the meat industry.
Gold awards were given to three sausage varieties and a turkey roast and two silvers and a bronze were awarded again to sausages.
Even the herbs used in the sausage recipes are supplied by local customers from their gardens.
Sausages have so far proved the most popular with on-line sales which began in the spring, although Northumbrian lamb and exotic meats are also popular.
Prince Charles and the Duchess of Cornwall on a private visit to Rothbury Family Butchers met Morris, Maria and the staff when they took a look around the shop and chatted about the business.
At the end of the visit Morris and Maria's daughter Molly presented the couple with some award winning sausages and local Northumbrian lamb.
A letter sent after the visit from Clarence House, and now framed by Morris, reads: "The Royal visitors were hugely impressed by all you have achieved and delighted to have been able to celebrate a traditional but with innovative edge high street butcher.
Supplying Rothbury Family Butchers is an expansion of sales for Jimmy Bell who also decided in 2000 to diversify the farming business at East Wingates - the family has farmed in Northumberland for 400 years.
At that time, Jimmy and his wife Kirsty decided to sell the suckler herd and concentrate on lamb production and they now run 1,000 Mule cross Texel ewes with their neighbour David Ashbridge, producing three quarter Texel lambs.
Around 1,400 lambs are sold from August to March at farmers markets at Morpeth, Tynemouth, Ponteland and Alnwick with an average of 25 lambs being processed in the on-farm fully licensed cutting room which was developed from redundant farm buildings two years ago.
"We knew we had a good product because we regularly topped the marts and local shows and a lot of the lamb was being exported which we weren't very keen on. So to reduce food miles and add value we set up the butchery," said Jimmy.
The upland unit is non-intensively farmed and was one of the first in the North East to be entered into Countryside Stewardship 15 years ago.
The Bells avoid using chemicals or pesticides on their farm and they give the minimal amount of medicines to their sheep, using homeopathic remedies where possible.
Lambs consistently grade E and U and the proof of their eating quality is the recommendation from customers who say they have never tasted better.
Now a butcher first and a farmer second, Jimmy is the only one of his family left in agriculture.
The ewes lamb in March and the lambs are finished as naturally as possible off grass until November when they are fed quality concentrate from Varleys of Darlington.
Any surplus lambs not required for the business are sold finished through Acklington Mart or as stores.
Until Christmas lamb is hung traditionally for 10 days with this period being extended to two weeks in the new year.
Morris and Jimmy's websites are www.rothburyfamilybutchers.co.uk and www.thelambman.com
© Copyright 2006 Jennifer MacKenzie All Rights Reserved.

Wiiliamsgill Suffolk Flock On Top


XL Vets striving for best practice


Upland Salers Benefit from Diet Change at Poldean