Scottish Cheviot Judge Learns From the Welsh
01/10/06
The annual Brecknock Hill Cheviot sale at Sennybridge saw some very good top prices and a more even trade benefiting the commercial produce, with the largest attendance ever seen. And the Scottish judge returned to Kelso having learned a great deal about the Welsh type of the Cheviot breed!
Brecknock Hill Cheviot Rams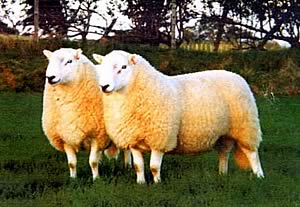 Yearlings averaged £538 and a top price of 9,000 guineas was paid for a yearling ram bred by Geraint Davies of Pantglas, Trecastle. It was sold to the Havard Brothers of Cwmbrynich Farms, Sennybridge.

The Havard Brothers bred the Champion yearling ram which sold to the Tay Brothers of Ystradfellte for 1200 guineas. They also produced the best group of three yearling rams.

Geraint Davies sold ten rams with the highest average on the day of £2,500. And J T L Davies of Blaenclyn, Libanus, had the second highest price of the day with 5,000 guineas for a yearling ram, sold to Geraint Davies.

Auctioneer and Society secretary, Peter Francis, described the day's trading as 'very even'. He said there had been some excellent top prices, but there was also a very good trade in quality sheep at an affordable price for the commercial producer.

There was more interest in the breed than ever before and tups had been sold to farmers from as far away as Snowdonia and Exmoor.

Judge Charles Symons of Yetholm, Kelso, praised the standard of sheep as being very high. He also expressed surprise at how different the Brecknock Hill Cheviots were from the Scottish type.

"I was extremely surprised at how different they are from our own at home", he said. "And that's an observation not a criticism.

"It's astonishing. The sheep here are much taller and have a narrower face. I suppose it's the influence of the Welsh Mountain.

"It obviously suits the countryside for your sheep to be taller and longer. I knew the standard would be good but I am surprised that the type is so different".


Brecknock Hill Cheviot Society Annual Ewe Sale 2006


Record price for day of strong trading at Builth NSA Ram Sale


Last Load for NSA Wales and Borders Ram Sale