Somerset farmer is a MF AgTV World Cup winner
23/08/06
Farmer Clive Knox got a little more excitement out of the World Cup than he expected when he scored top prize in an international competition run by AGCO Parts to celebrate the event.
Massey Ferguson MF 400 AgTV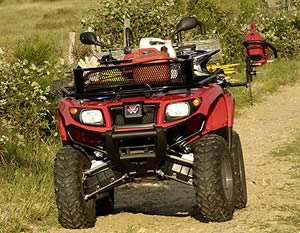 Clive of Knighton Farm, near Bridgwater was presented with a specially-commissioned Massey Ferguson MF 400 AgTV featuring a unique seat fitted out with the black and white hexagon pattern of a football. His was the winning name drawn from thousands of entries in nine European countries.
"When AGCO Parts phoned to say I'd won I didn't believe it at first, but I was delighted," says Clive. "A quad bike's been on my shopping list for sometime and this new MF 400 will be put to good use here. The World Cup seat makes it that little bit different. We'll certainly never forget the year it arrived on the farm."
AGCO Parts is the driving force behind industry-leading parts support offered to all AGCO farm machinery brands. It provides parts supply, distribution and complete repair solutions for leading names in the AGCO stable including Massey Ferguson, Fendt, Valtra and Challenger.

The Knox family farms 410 ha,extending for about two miles along the coast of Bridgwater Bay, near Stogursey. Main crops include wheat, barley, rape and linseed together with 250 head of beef cattle. "We'll be using the AgTV to help round up the livestock and spread slug pellets on the cereal crops," Clive remarks. "We also have countryside stewardship grassland along the coast and the MF 400 will be perfect for spot spraying. In addition, a number of public footpaths cross the farm and the AgTV will come in handy for maintaining these. It will also be useful for running around on the pheasant shoot that I organise. It's a really welcome addition to our farm fleet which already includes an MF 6170, MF 399 and MF 398."
MF AgTVs are specifically developed for agricultural and commercial use. The range includes models from 376 641 cc. Key features include start-in-gear facility, adaptable Multi Rack Platform for easy transport of tools and materials plus a full range of accessories.

Massey Ferguson returns to the Dairy Event


Massey Ferguson's 6497 Tractor wins Machine of the Year at Agritechnica


Kuhn Ploughs Now Available With Wide Tyre Bodies