19/07/06
Lamb abattoir and processor, Welsh Country Foods, based at Gaerwen, Anglesey has opened a new livestock collection centre near Stoneybeck, just north of Penrith.
Shaun Cowin - Welsh Country Foods Procurement Officer, Adrian Roberts - Welsh Country Foods Procurement Manager, James Thompson - Riverfield Collection Centre Manager & Welsh County Foods Procurement Officer, Wyn Ellis - Welsh Country Foods Procurement Officer, Keith Edwards - Welsh Country Foods Procurement Officer, Alan Stewart - Haulier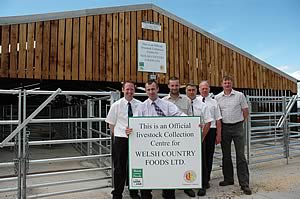 Welsh Country Foods, who are the sole suppliers of fresh lamb to ASDA process in the region of 1.5 million lambs annually, initially hope to procure around 1,000 lambs per week from this new collection centre. Located just off junction 41 of the M6, on land belonging to James Thompson from Penrith, it is ideally situated for the local farming community.
James, who has invested heavily in this new 'state of the art' centre, in addition to overseeing the running of the centre, will also be joining Welsh Country Foods as a Procurement Officer, sourcing livestock from farmers in the Eden area. He will also be supported by full-time procurement manger Shaun Cowin, also from Penrith.

Commenting on the launch of the new collection centre, James Thompson said: "This centre has a number of welfare advantages. Lambs delivered to the centre in the morning will generally away by 2-3pm that same afternoon, benefiting not only the lambs but also the hauliers and local farmers. Located close to the excellent transport networks minimises the transportation times reducing stress and handling for the animals."

All lambs collected from the Eden area will be sent direct to Anglesey for slaughter and those meeting the Asda LambLink specifications will then go on to be supplied to the national retailer. In addition many lightweight lamb carcasses will go to Mediterranean markets, and ewes and rams will also be handled.
According to Adrian Roberts, Procurement Manager at Welsh Country Foods, the centre is the first of a number that Welsh Country Foods plans to open, initially in northern England and then across the UK. Mr Roberts believes the centre offers a number of advantages to farmers in the Eden area with lambs to sell.
"Farmers will be able to bring their lambs here and unload them straight away — the turnaround time will generally be about 15 minutes, so there will be no standing around for half a day. There will be no charge for the trip to Anglesey and the only deductions will be standard ones made for the MLC and slaughter. The prices paid will be deadweight and farmers will receive their cheques directly within a few days," said Mr Roberts.
He added: "This is an excellent location in a noted sheep area with a lot of good quality lambs, and we are offering another marketing option to local farmers. Despite our location more than 4,500 British farmers from Scotland down to Devon now supply their lambs direct to Welsh Country Foods. The erection of such livestock centres around the country allows farmers to take advantage of our free transport regardless of the number of lambs they have to sell."
Trevor Hanger, Managing Director of Welsh Country Foods said, "The erection of collection centres such as the one at Stoneybeck highlights the success of the ASDA LambLink scheme, which has gained terrific momentum since it's launch in 2002."
He added: "Today's discerning ASDA consumers demand top quality products produced with first-class husbandry and the highest welfare standards and traceability. Investing in facilities such as this one ensures that we achieve top welfare standards for our stock, but at the same time, it is also a long term investment in the rural community as a whole".
Welsh Country Foods is a member company of Grampian Country Food Group.

Maternal EBVs to Aid Better Replacement Breeding


Double Standards for Home Produced and Imported Beef


Finishers must hold firm for beef market prices