Governments handling of TB is "Shameful"
08/06/06
The Tenant Farmers Association's National Chairman, Reg Haydon, will be at the South West's premier, summer, agricultural event - the Royal Cornwall Show.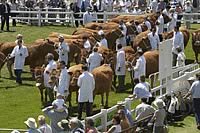 Royal Cornwall Show 2005
"The Royal Cornwall Show is great because it is still rooted in agriculture. It remains very much a farmers' show and it is a great place to meet many of our existing members and to sign on new members," said Mr Haydon.
Late receipt of Single Payment Scheme (SPS) money, problems with agri-environment schemes, decreasing milk prices and continuing problems with bovine tuberculosis (TB) have all created a difficult environment within which farmers in the South West have had to operate.
"The TFA has been working hard through the spring and early summer to ensure that the Government got the much needed SPS payments out to farmers. We know that there is much more to do for both 2005 and 2006 payments. We will keep up the pressure on the Government until the last farmers receive all that they are due. The TFA has already put down a firm marker that there should be an early interim payment for the 2006 scheme," said Mr Haydon.
The Government clearly made some big mistakes in the way it has run the SPS, not least in its decision to use a dynamic hybrid model.
"I am sure the House of Commons Select Committee and National Audit Office inquiries will take us to the heart of what went wrong. However, we do not need an inquiry to tell us that the Government's handling of the TB issue, which so badly affects the South West, has been shameful. It is disgraceful that a Government, which says it believes in animal welfare, allows tens of thousands of cattle to contract TB from infected badgers so that they have to be slaughtered. I see the human suffering amongst farmers and their families as they face this terrible disease with no means to deal with it. The science, which says we have to cull TB infected badgers over a long period of time in a large area, may be unpalatable but years of inaction has brought us to this point. We cannot have this issue kicked off into the long grass any longer; we must have a decision to cull TB infected badgers now," said Mr Haydon.
"Despite the problems I know that farmers in the South West are a resilient bunch and that there is a great tradition of local food. The Royal Cornwall Show is a great showcase for that tradition and I am looking forward to being a part of it," said Mr Haydon.

More top scientists reject badger culling to control bovine TB


Agricultural Tenancy Reform Takes Another Great Leap Forward