11/06/06

Cumbrian breeder William Cowx, Hudscales, Hesket New Market, Wigton has been elected the 8th President of the British Limousin Cattle Society (BLCS) in its 35 year history in the United Kingdom. Mr. Cowx, who will serve a two year term of office, takes over the presidency of the Society from Douglas Crighton.

New British Limousin Cattle Society President William Cowx pictured on the Limousin stand at Beef 2006, Borderway Market, Carlisle. .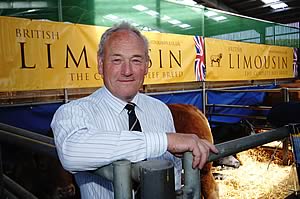 Officially elected in May, the new President's first public task was helping to represent the Society at the NBA's Beef 2006 event held in Borderway Market, Carlisle on Friday 2nd June. A large crowd of pedigree breeders and commercial customers took the opportunity to view the quality cattle exhibits on display and to meet and welcome the new Limousin President. A well known and highly respected breeder, Mr. Cowx's first involvement with Limousin cattle was in the late 1970's prior to establishing the Hudscales pedigree herd in 1980.

William Cowx was a Council member of the BLCS between 1993 and 1998. During this term he also served as the Society's Marketing Chairman for three years. In 2004, he and his wife Judith and two sons, Andrew and Adrian, hosted a spectacular open day during the International Limousin Congress with over 400 delegates attending from 22 countries. Within Cumbria, Mr. Cowx was a Director of Harrison & Hetherington Ltd for ten years, three of which were served as the Board's Vice Chairman. In what was a Government appointment, Mr. Cowx has also served on the Lake District National Park Authority, a position that latterly saw him appointed as Chairman of the Park Management Committee.

Hudscales Farm, near Hesket Newmarket in the Lake District National Park, is just over 1000 feet high. A 350 acre traditional upland farm, it is set against the imposing backdrop of a 20,000 acre fell with its communal grazing. The "Hudscales" pedigree herd comprises of some 60 Limousin cows with cattle numbers boosted by 50 first and second cross Limousin x Friesian cows. All bulls are Limousins. The sheep enterprise is based on a flock of 400 North of England Mules, crossed with Beltex and Texel tups.
Each year the Cowx family sell the majority of their weaned bull calves, aged up to a year old, at their annual youngstock sale held at Carlisle's Borderway Mart. Last month fifteen young bulls were sold to a top of 4000gns and an average of £1700.

Commenting on his Presidency Mr. Cowx said: '"I am greatly honoured and deeply delighted to have been elected President of the Society which I joined some 26 years ago. The breed's development to its position as the UK's number one beef breed for over ten consecutive years has been quite remarkable. It has built its reputation on providing its customers with easy care cattle that deliver a superior end product whatever the production system. I have no doubt that these same principles will ensure the breed's ongoing popularity".

Mr. Cowx and his wife Judith will be attending many of the principal summer shows where they look forward to meeting members and Limousin customers alike.

Limousins at Balmoral Show 2006


Performance And Achievement Highlights Limousin Year


Gearing up for SFP with Charolais