First Live Dairy Cattle Exports into Europe
23/05/06
History was made at the EX Factor Sale on Saturday 20th May at Borderway Mart in Carlisle. Harrison & Hetherington Limited were the first Auctioneers in the UK to EXport live cattle both East and West over the borders to Spain and Southern Ireland respectively and to smash the current Jersey UK Top price paid for a pedigree Jersey, all in one day! The EX Factor finalists literally graced the red carpet as they came under the hammer in front of a star gazed audience.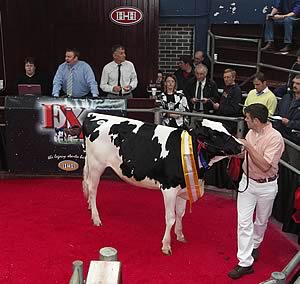 Branded as the "million dollar babe", Lylehaven Lila Z's VG89 1st choice female by Braedale Goldwyn made the top dollar of the sale of 26,000gns. For the first time at public auction in the United Kingdom these EXclusive genetics were claimed by Wills Brothers, Wadeford, Cornwall. Due in September 2006, and consigned by Acecroft Holsteins, Cormdale Genetics, Comestar Holsteins, Genervations and Whittier Farms, this EXciting prospect's dam sold for $1,150,000 at the Triple Crown Sale 2005 winning many show titles including 1st Jnr 2Yr Royal 2004 and All Canadian Jnr 2Yr.
First prize Senior 2Yr & Hon Mention Jnr Champion National Holstein Show 2006, Almond Stormatic Avis PI VG86 2Yr claimed 14,000gns for consignors Paul & Gillian Rawcliffe, Park Farm, Annan. Bred from 6 generations of Excellent or VG cows generating back to the Hannoverhill Anna EX family, this Comestar Stormatic daughter was sold to Mr Lawson, Almondene Holsteins, Lancashire as a half share retained by the consignors.
Shellen Connection Diamond VG88
8,500gns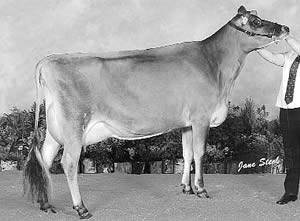 Smashing the UK Jersey Top Price was Shellen Connection Diamond VG88 2Yr consigned by Tom Savage & Shelia Fleming. First Heifer-in-milk, Milk Production, Exhibitor bred & Champion Jersey Heifer Agri-Scot 2005 overtook the UK breed & European Breed record price paid for a jersey for 8,500gns to S&S Murray, Shipley Bank, Wolverhampton.
Riverdane Talent Sara Red PI, daughter of Copywood Integrity Sara Red PI EX90, was consigned by Riverdane Holsteins, Byley, Cheshire. This All Britain family, renowned for its ability to breed top show animals with high production and components potential did not disappoint. At 5,500gns she now joins the Dumfriesshire breeder, Andrew Bunting's herd of Newabbey Holsteins.
Selling in her second lactation, Overside Shottle Sunshine PI VG88, realised 4,800gns for WW Neilson, Strathaven. Sired by Picston Shottle and in calf to Mesland Duplex this 6th generation of EX or VG cows enters the Willbro Holsteins herd of Wills Brothers, Cornwall.
The first British Holstein to be Exported to Spain was Wyndford S Storm Rebecca PI consigned by Wilfred Maddocks Ltd, Shropshire. Quim Serabassa, Barcelona snapped up this 1st Winter Calf and Champion Calf Nation Holstein Show 2006 for 4,500gns. Mr Serabassa was very impressed by the quality of the sale, "I've had a wonderful time in England meeting the breeders and enjoying the hospitality. I am thrilled to be the first to export live genetics from the UK".
Irish buyers made a presence at the sale both in person and via phone bidding. Leading breeders included Micheal Booth (Beechrow Holsteins) Laois, Martin O'Sullivan (Desmond Holsteins) Limerick, Hugo Maguire (Beechford Holsteins) Monaghan, and Brian Roache (Archersrath Holsteins) Kilkenny.
Five embryo lots sold from Exclusive families, new to the UK including families of Paradise, Ashlyn and Licorice. Top price of 1,400gns was paid for five Shottle embryos out of Vandyk-K Integ Paradise ETN 2 VG89 2Yr to Smiddiehill Holsteins, Wolverhampton.
Alison Millar marketing manager for dairy sales at H&H "we are very EXcited with the support and success of the EX Factor Sale. We have managed to develop new markets in mainland Europe and hope to develop this market further in the future".
Averages
17 Holsteins - £3810.88
5 Jerseys - £2961.00
5 Embryo Lots - £1060

First pedigree Charolais cattle exported to Europe


Belgian Blue Cattle Fly at Carlisle Market


Belgian Blue Cattle Sale Warms Up Chelford