12/04/06

Farmers and land managers increasingly being challenged to meet both economic and environmental targets will be able to gain valuable insights on the way forward at an Open Day organised by IGER's North Wyke Research Station on Thursday 29th June 2006.

The IGER North Wyke Open Day on 28th June will highlight how better use of farmyard manure will both safeguard the environment and help farmers reduce dependence on livestock manures.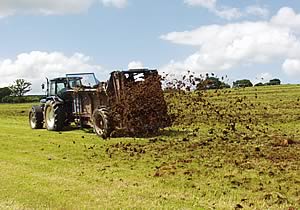 The 'Towards a Better Farming Environment' event is being staged to mark a quarter of a century of pioneering scientific research at the North Devon site. It will showcase projects being undertaken by the Institute to help the livestock industry meet the environmental and production challenges of the next 25 years.
"Safeguarding the environment whilst also reducing dependence on mineral fertilisers through better use of livestock manures is a key theme for the day," explains IGER head of department Professor Steve Jarvis.
"But more than highlighting the Instititute's research in this area, we will also give practical guidance on minimising nutrient and particulate losses from soils, meeting the bio-diversity goals of agri-envrionmental schemes, living with Nitrate Vulnerable Zones (NVZs) and achieving the standards required by 2015 to stay within the new Water Framework Directive," he says.
The North Wyke site near Okehampton will be open to the public between 10.30am and 5.00pm on Thursday 29th June. Entry is free and further details are available from IGER North Wyke on 01837 883500.

Get Fit For Spring, But Remember The Code!


Defra to develop farm plastics scheme


"The country needs a thriving and profitable farming industry" - Beckett