18/04/06
One year on from the launch of the MXU MAXXUM X Line tractors, Case IH is adding a fourth model to the range, the 131hp MXU130X to provide customers with even more power yet retaining the straightforward operation that has made the range a success.
CASE IH MXU130X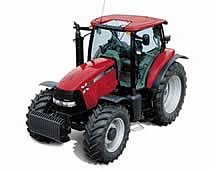 "The MAXXUM X Line is a robust, easy-to-maintain tractor for the livestock or mixed farmer. For this customer the priority is for a versatile, fuel-efficient and cost-effective machine. The MXU130X is a natural extension to the line-up, providing excellent engine torque characteristics and more power for those wishing to undertake demanding PTO and draft work," explains Charles Blessley, Case IH marketing manager.
The MXU130X certainly has all the right credentials, including electronic hitch control, a powerful six-cylinder engine, high capacity hydraulics and a choice of standard or low-profile cabs.
Electronic Hitch Control from lower link sensing makes ploughing easy on the operator, and increases the scope and adaptability of the MXU X Line for farmers or contractors requiring a stronger arable capability. This feature is standard on the MXU130X and has become available across the rest of the range.
As with the 101hp MXU100X, 112hp MXU110X and 116hp MXU115X, the MXU130X has a Tier II turbo-diesel engine, with two valves per cylinder and a mechanical fuel injection system to ensure an efficient supply of power is always available. This is married to a choice of proven transmissions, a 16 x 16 four-speed semi-powershift with powershuttle or, on the lower horsepower models, a 24 x 24 two-speed powershift with powershuttle for smooth control and flexibility.
Simple to use and easy to maintain, the MXU130X requires minimum operator training yet is designed for a wide range of applications, providing PTO speeds of 540, 540 economy and 1000 rpm at the rear. A dedicated hydraulic pump for steering ensures high work rates are maintained for all services at all times while a separate 63l/min hydraulic pump services three remote valves and the three-point linkage. For loader applications, there are an additional two mid-mounted valves and a seat-mounted joystick to control the Case IH LRX loader.
With many customers specifying the LRX front loader from new, good visibility all-round is essential. This is provided by the class-leading Case IH Surround Vision cab, in either standard or low-profile format, featuring a roof-top loader window, creating a light, open environment that is quiet and comfortable.
Tractors fitted with the low profile cab, in conjunction with a shorter exhaust pipe, have their overall height reduced by 150mm compared to those fitted with the standard cab, providing better access to traditional farm buildings.
The MXU130X embodies Case IH core strengths of power and reliability in a package that combines high productivity with a low cost of ownership.
MXU MAXXUM X Line:

Model kW (hp) Cyl / Valves/ Aspiration
MXU100X 74 (101) 4 / 8 / T
MXU110X 83 (112) 4 / 8 / TI
MXU115X 85 (116) 6 / 12 / TI
MXU130X 96 (131) 6 / 12 / TI

More power for Case IH flagship combine


Case IH MXU MAXXUM X Line tractors