The Kenya Livestock Breeders Show 2006
09/04/06
The Kenya Livestock Breeders have great pleasure in announcing their 2006 Show to be held at Jamhuri Park, Nairobi on Wednesday 7th June to Friday 9th June 2006.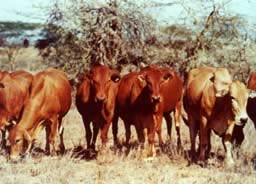 The show is the culmination of a combined effort of all Breed Societies of Kenya and represents the cream of the country's livestock. The show aims to promote Kenya's livestock industry world-wide, particularly within the COMESA group of countries.

Brookside Dairy Limited have again agreed to be title sponsor. The Agricultural Society of Kenya have incorporated the show in their 2006 calendar of events.

A full range of classes representing Ayrshire, Holstein-Friesian, Guernsey and Jersey dairy breeds, Brown Swiss, Boran x exotic dairy will be represented as well as Sahiwal, (dual purpose) Boran, Beef & Fatstock, judged by international judges. Dairy goats, meat goats and sheep will be on show and camels and free range chickens on display.

For those interested in showing, all animals must be registered; either with the Kenya Stud Book or the Grade Registers. Borans must be eligible for registration. Breed Inspectors lists are available from the relevant breed society.

The qualities of Kenya's own Boran breed of cattle for use in semi-arid areas of the world will be highlighted. There will be an auction of prime Boran, Beef bulls and Fatstock after the classes.

Great Opportunities

Kenya's agricultural commercial sector will have an exclusive opportunity to show and promote its products to the public. Offering a unique opportunity to create bonds of interest between farmers and the suppliers of agricultural services and equipment. Over 7000 people registered their attendance in 2004.

The event will promote sales of semen from Central Artificial Insemination Station for both local and for export markets. Kenyan breeders who supply embryos for export can be contacted through their breed society.

Seminars will be held to highlight modern livestock technology appropriate for both small scale and large scale farmers countrywide. Panel discussions will be incorporated leading to a lively debate.

All farmers and stakeholders in the livestock and agricultural sectors are welcome. Entry will be by ticket bought at the gate. A.S.K. Members will be admitted free.

Overseas visitors are welcome to contact the organizing committee for information and introductions.

The show has seen considerable growth since its inception. The comment "the greatest success yet" of the 2004 show came unanimously from breeders, sponsors, product and service displayers, attendants and participants alike.

The favourable comments made by international judges are encouraging including "I have never met such a dedicated group of people with such a sense of optimism." "The top cows could be shown anywhere in the world" " Congratulations to all breeders in preparing their cattle and bringing them to the show - I take my hat off to them". The judges of the exotic breeds were very impressed with the Boran and praised the legs and feet locomotion of this breed.
Activities
Judging of dairy cattle by international judges including progeny groups.
Dual purpose cattle judging - Sahiwal, Brown Swiss, Boran crosses.
Judging of Boran Cattle, bull progeny groups and other beef breed classes and fatstock.
Judging of sheep and goats.
Auction sale of Boran & Beef bulls and prime fatstock.
Display of camels and free range chickens.
Display of commercial products relating to the livestock and agricultural sector, as well as veterinary medicines, vaccines, livestock feeds & inputs modern technology and equipment in these sectors.
Grand Parade of livestock.
Other arena events including sheep shearing competition.

The Royal Show hosts a unique celebration of farming, food and rural life


Smithfield Livestock Competitions Go Ahead


Limousins are supreme champion pair at 2005 Royal Show