26/03/06
A breakthrough milk testing kit that allows dairy farmers to rapidly confirm individual dairy cows in the herd with high somatic cell counts – and at very little cost – is being launched in the UK by Fullwood.
The new Porta SCC Milk Test, being launched in the UK by Fullwood, provide a measure of somatic cell count in just over 40 minutes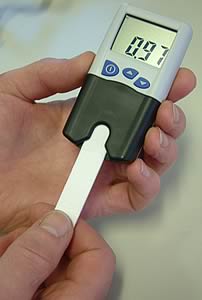 Developed in the US based on expertise gained in human health, the Porta SCC Milk Test provides users with a readout of somatic cell count in just over 40 minutes.
But the major advantage comes by allowing farmers with high bulk tank somatic cell counts to simply and accurately trace the cause back to individual offending animals, says Fullwood, either for removal from the herd or for treatment – so that bulk tank cell counts can again be brought down.
Users simply place a drop of milk from a suspect animal onto a test strip supplied in the kit, add a small quantity of chemical reagent provided, and leave for 40 minutes for the two to react. The strip is then placed into the kit's special electronic reader, which provides an instant digital display of somatic cell count, based on the colour intensity of the chemical reaction.
"High bulk tank somatic cell counts – resulting in loss of milk price premium or even penalties – have become a real issue for many farmers recently," says Fullwood's Chris Stevens, "as both cows and labour are being pushed harder.
"Even for a deduction of only 0.2 pence per litre, across a herd producing a million litres a year, that's a loss of £2,000 straight off the bottom line. Higher penalties of 0.5 pence per litre cause even greater financial loss over a year – and that's before treatment costs and loss of saleable yield are taken into account.
"Although farmers receive details of bulk tank cell counts from milk buyers, this doesn't identify the offending animals.
"Similarly, while it's possible to have laboratory tests conducted on milk from individual cows, these cost anywhere from £25 to £50 per test, and can take two weeks or more for results to come back. By this time the problem might have escalated, and may even be too late to treat.
"The real key with this new test is that it helps rapidly pinpoint individual animals in the herd which may be driving up the bulk tank cell count – so that these can be treated or even culled from the herd, hopefully before they do any long term damage."
Available from Fullwood and its nationwide network of dealers, the new test can be purchased as a starter pack containing the electronic reader plus sufficient test strips and reagent for 24 tests.
Top up kits of reagent and test strips can then be purchased as needed in units sufficient for either 100 or 500 tests. At a little over £1-00 per test, costs are very small in relation to the potential benefits.
"In cases where high cell counts are detected and treatment administered before infection turns into full blown mastitis, there is the possibility of saving a quarter, if not the whole udder," Mr Stevens points out.
"We see the new test as becoming an important, regularly used piece of equipment to help producers constantly manage somatic cell counts. It makes it affordable as a routine practice," he adds.

Fresh Start: seminar for dairy farming entrants


Dairy industry urged to develop trust for a sustainable future


MDC must be retained - RABDF levy board response