Dairy Event 2006 scheduled for expansion
21/03/06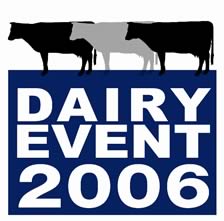 The Dairy Event, the two day business to business event reaching dairy farmers with 80% of the UK's cows, as well as some beef and sheep farmers, is scheduled for further expansion at its Stoneleigh Park, Coventry site on Wednesday 20 and Thursday 21 September.

In addition to a full range of features targeted at all sectors of the dairy industry, event organiser, the Royal Association of British Dairy Farmers has expanded the machinery area by more than 60% to 7,500m2, to accommodate increased demand from companies following the cancellation of Smithfield Show.

Also new to this year's Dairy Event is the Forage for Livestock Exhibition with a comprehensive range of products and services involved in grassland and other forage crop production. In addition, the event sees the return of the popular mixer wagon demonstrations offering visitors the opportunity to compare models, Diversifarm for all those with an interest in farm diversification, Beef from the Dairy Herd and the MilkMade Exhibition focussing on dairy technology, processing and marketing.

"Our plans are well in advance to build on last year's Dairy Event which featured 390 trade stands, including over 120 companies involved with machinery and equipment and attracted an increased attendance despite the current trend within the industry, together with visitors and trade delegations from 30 countries," comments RABDF chief executive, Nick Everington. "Those plans include providing a new and alternative opportunity for machinery exhibitors to meet with dealers, contractors, as well as large scale livestock producers to promote feeding, bedding and muck handling machinery as well as new forage making equipment and products for next season."

Dairy Event 2006 Stand Space Schedules are now available from RABDF. Please call 0845 458 2711 or email info@rabdf.co.uk for a copy.

MDC must be retained - RABDF levy board response


Smithfield Show 2006 Cancelled


McCormick commits to Smithfield