13/03/06
Prospects for UK grown rapeseed have never looked better with the crop increasingly in demand for both edible and biodiesel markets, according to United Oilseeds' Chris Baldwin. "We are already seeing farmers benefiting from these trends with forward contracts for 2007 harvest of approximately £150/t plus bonuses. However, prospects in the short and medium term are more uncertain," he told a briefing in London today, Friday 10 March.
Oilseed Rape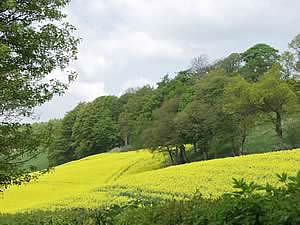 "British oilseed rape is confused. Is it vegetable oil, canola, biodiesel, edible, commodity or quality?" he said. "Despite these labels, whichever route producers take they should not exclude themselves from future markets and must consider the long term impact. We are after all in a period of considerable change, with cash flow pressures and increasingly complex issues to understand.
"The market could swing wildly from edible to biodiesel usage, and back, so understanding the market is a prerequisite for all growers," Mr Baldwin argued. "So too is removing the risk in choosing a variety which forms the backbone of the crop. Merit Rating and other techniques can help to identify the optimum variety for sowing, for example, newly recommended varieties such as NKGrace demonstrate a combination of good establishment, disease resistance and standing ability with the optimum biomass."
Increasing volatility, and price distortion caused by the competing demands for food and fuel may appear to be good news for UK prices, he said. However, there were accompanying risks. Rising UK prices encouraged overseas planting, and while increasing crude oil prices may make biodiesel production more lucrative in the short term, would it firm up prices for edible markets and how much would be imported in the long term?
"Likewise it must not be forgotten by the Government, farmers and consumers alike that home grown food production is a security issue that we cannot afford to ignore. After all rapeseed is one of the healthiest, low saturate oils available - an essential part of our diet full of omega 3 and omega 6."
He added: "As producers and consumers we face some stark choices in the coming year - biodiesel may be giving everybody a warm 'renewable' feeling at the moment, but when we've burnt our scarce supply of rapeseed oil what are we going to eat? How long before Margaret Beckett is quoted as saying 'let them eat coal'! The phrase 'food for thought' has never had greater importance or urgency, so too is the need to minimise risks from sowing to marketing."

Inoculant treated big bale silage achieves highest quality forage


New Outlook Report Predicts Major agrochemical Price Pressures


Latest Ultra Early Variety Extends Maize Growing Options`