14/02/06

Prince Charles spent two and a half hours at Raisgill Hall, Orton, Cumbria when he officially opened the new meat cutting plant Junction 38 run by a mainly farmer co-operative on February 6.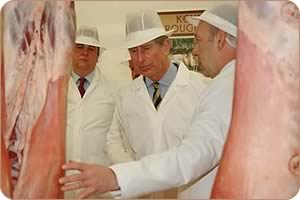 Prince Charles tours the cutting plant
Prince Charles spent two and a half hours at Raisgill Hall, Orton, Cumbria when he officially opened the new meat cutting plant Junction 38 run by a mainly farmer co-operative on February 6.
The Prince not only had a tour of the £680,000 state of the art premises and was shown the type of carcases it would be handling but met key people behind the project, which has taken six years to come to fruition, as well as talking to members of the co-operative over a cup of tea.
Steve Dunning, on whose farm the plant has been built and one of the driving forces behind it, said: "Prince Charles has known about our plans since he came to Orton Farmers Market in 2000 and he has been following it closely. He was full of praise for the venture and he wanted to know what had given us the faith to go ahead with it.
"Just getting the 'Royal seal of approval' was tremendous and it's proving to have great feedback from both new and existing customers."
The visit attracted wide press coverage - Mr Dunning said 2.5 million people watched the footage on BBC Newsnight alone.
The meat cutting plant, was the brainchild of Mr Dunning and fellow Westmorland farmer Richard Warburton - both former NFU county chairmen - and they have driven the initiative which has been funded by investment from a producer co-operative and regeneration grant aid.
The whole concept of the plant was seen as a means for local producers to carry on farming by getting a sufficient profit margin for their livestock.
Fifty farmers and others with an interest in the venture have each pledged £2,000 to join the co-operative and 40 per cent of the capital costs have come from funding agencies Rural Regeneration Cumbria, Leader + and Distinctly Cumbria. Bank borrowing has raised the remainder of the funding.
"The plant is a means for us to carry on farming by getting a sufficient profit margin for our livestock," said Steve Dunning.
"From slaughter to cutting there will be full traceability - this is what buyers are looking for. Much of the meat will go to the catering trade who are willing to pay a premium for top quality local meat.
"The Junction 38 Partnership will be the wholesaler, so there will be no middle man and the premium will come to us," he added.
To reward those producers who have been prepared to take a risk in the venture, co-operative membership will be closed.
A database of members and their stock will be kept and cattle, sheep and pigs will be sourced from what is available from the members and to maintain throughput purchases will be made at local auction marts.
Members will also benefit from receiving payment within 14 days with other suppliers being paid within 21 days.
Once the operation is into profit, the surplus will be split with 50 per cent distributed among all members and the remainder allocated on the amount of stock sold by each member.
The livestock will be purchased by the partnership's sister company, Lakes and Dales Born and Bred which will find a market for the meat.
Slaughtering is at Macintyre Meats' Hawes newly built abattoir where carcases will be bar coded before transportation for cutting and packing at Raisgill Hall, where there is also the latest computer technology, allowing complete traceablity of the meat.
The new building which measures 70ft by 140ft, includes chiller rooms and freezer rooms as well as cutting and processing areas. Its construction has been managed by a neighbour of Steve's, David Garrick who has kept the project running on time.
Large capacity storage will enable cuts to be sold to customers who require big volumes of particular meats such as lamb shanks.
Half the building has two floors allowing office and other staff facilities to be on the first floor.
The plant also has preparation rooms for further processing such as sausage making and ham curing by producers themselves who hold the relevant HACCP (Hazard Analysis Critical Control Point) food safety training.
It has accreditation from the Soil Association which means that local organic producers now have a specialist facility in the county.
The plant will also cater for farmers producing only small quantities of meat for processing, such as those who sell at farmers' markets. They will be able to brand the meat with their own label.
Original plans for the venture had included an abattoir as well as a cutting plant at nearby Tebay.
However, because grant aid would not have been available for an abattoir because of competition already in the area, this idea was dropped.
The cost of the proposed development at Tebay at an estimated £1 million meant that the farmer's co-operative would have had to find half the funding.
Switching the site to Raisgill Hall enabled under EU funding rules for the value of the site to be included in the farmers' contribution, making Steve's site at Raisgill Hall ideal for the venture.
The whole idea was sparked by a remark about prices and how farmers might as well give their lambs away.
As a result, Steve and other farmers from the area offered free samples of lamb to those using the Tebay motorway service station.

The feedback from the people was good and it started what have become regular sales of Cumbrian lamb in London.
"At the time a 40kg Rough Fell lamb was selling live at auction for £29-£30 whereas a boned rolled lamb shoulder was making the same price at the London meat market, adding great value," said Mr Dunning, who rapidly saw the advantages of adding value to his product.
In the run-up to the opening of the plant, the sister company Lakes and Dales Born and Bred has been processing between 400 and 500 lambs a week which have met a ready market.
The Raisgill Hall plant has the capability of processing 1,500 lambs a day in one shift and should there be the demand it would be possible to run two shifts.
The plant at Raisgill Hall is licensed to process all species of livestock, with the exception of poultry.
Staff have been recruited. Vic Dawes, who has been with Lakes and Dales Born and Bred, is the cutting plant manager and the team is ultimately likely to number 18 people.
© Copyright 2005 Jennifer MacKenzie All Rights Reserved.