Delicious, Nutritious And Good For Local Businesses
18/01/06
Farmhouse Breakfast Week - 22 - 28 January 2006
Jumbles Country Park Guest House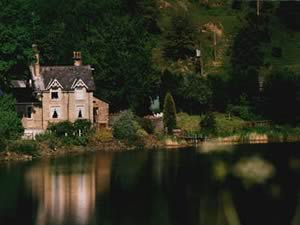 Supporting local suppliers never tasted so good. As the country gets ready to celebrate Farmhouse Breakfast Week, one Defra funded guesthouse near Bolton is already renowned for serving the best food the region has to offer.
Farmhouse Breakfast Week, organised by the Home Grown Cereals Association (HGCA), is a campaign that aims to highlight the importance of breakfast and make people aware of the range and quality of available regional produce.
Jumbles Country Park Guest House in Bromley Cross is a shining example of how local foodstuffs can be used to make some of the best breakfasts around.
The guest house was set up four years ago by Lesley and Colin Sobey, who wanted to make their beautiful large farmhouse into a viable business and sought the aid of a Defra Rural Enterprise Scheme (RES) grant.
The Sobeys bought Grange Farm after falling in love with the spectacular view over the Jumbles reservoir and country park. The couple were looking for a career change, having previously worked as schools inspectors. With seven children and a constant stream of visitors, they were used to entertaining large numbers of people, and they decided to fund the upkeep of their new home by opening a guesthouse.
A RES grant was awarded by the Rural Development Service to cover almost half of the conversion costs, transforming rooms into ensuite bedrooms, and repairing the roof, facias and gutters.
Determined to make the project work, the Sobeys were keen to make the most of the surrounding grounds. They took up equine and land management studies, re-opened the livery stables on the premises and began managing the surrounding land for the benefit of wildlife and the environment.
Despite having no formal catering or farming experience, they have made Jumbles Country Park Guest House a great success, with a clutch of accolades including the AA 5 diamond accreditation and two prestigious awards from the North West Tourist Board.
Holidaymakers come from as far away as America, Hong Kong and Singapore, and the guesthouse is very popular with business people because of its proximity to Manchester city centre and the motorway networks.
However, the main attraction is Lesley's catering: the genuine Lancashire Farmhouse Breakfasts served at Jumbles would rival many a top chef's offerings.
Lesley bakes all her own breads, and makes an excellent range of home made jams and conserves with the rhubarb, redcurrants and blackberries grown on the farm or from fruit bought from local suppliers. Friends have even tried to persuade her to market her jams but at the moment they are only available to hotel guests.
The Jumbles hearty cooked breakfasts include free range eggs and local, mostly organic meat from nearby butchers. Lesley even makes her own yoghurt on the Aga, and serves it with delicious fruit salads in winter and summer.
Lesley says,
"I enjoy cooking and am a great believer in serving fresh, locally sourced produce. Lancashire has a wonderful range of food suppliers and I get great satisfaction from using the best products the region can offer to make top quality breakfasts for our guests.
"I am also very environmentally conscious and buying local produce is a great way of cutting down on food miles and reducing waste from excess packaging.
"We wanted to make Jumbles into the type of place we would like to stay in ourselves but at an affordable price, and we have a huge number of regular customers so we must be doing something right."
Christine Cummins, an adviser with the Rural Development Service in the North West, said,
"We are proud to be able to support local businesses in the North West, and have funded 19 Farmhouse B&B enterprises through RES, as well as numerous local food initiatives from bakeries and butchers to ice-cream farms. It is particularly rewarding when projects such as this one are not only extremely successful in themselves, but also actively seek to support other regional businesses by sourcing their food from the many excellent local suppliers.
"We are sure Lesley's lucky guests will continue to enjoy fantastic Lancashire food, not just during Farmhouse Breakfast week but all the year round."

Environment Secretary visits award-winning Sussex vineyards


Woodland managers plan for climate change


Defra Grant Helps To Kick Start North East Wood Fuel Industry