18/04/05

It used to be the subsidies that mattered most when finishing beef cattle. Growth rates largely took second place behind the need to secure that much-needed second payment.

Now, post MTR the value and quality of the cattle matters most - however, a more profitable future has yet to feature on the immediate horizon for many producers.

Duff Burrell, who farms 220 Aberdeen Angus sucklers and 400 head in all on 1000 acres at Broome Park Farms, Alnwick, believes there is just one option for him to follow - to become more efficient by breeding, growing and finishing his animals faster, better, cheaper.

That is the challenge he also set his nutritionist, Keenan's Donald Brown, when he purchased his Klassik 140 feeder wagon some two years ago, when the end of subsidies was looming.

Buying the feeder meant buying into efficiencies, but the new machine was only of moderate interest - what mattered was that the system delivered tangible, financial benefits and that Donald achieved the performance improvements that were required to get them.

"The machine itself and in a standalone environment is only an average offering to me," said Mr Burrell "What matters is the combination of man and machine - including the specialist nutritionist that goes with it, and the day to day operator to produce the rations he says should be produced."

So far the combination is comfortably improving animal performance, farm efficiencies and the health status of the herd, says Duff. The 400-day weights for breeding heifers in the first year averaged 26kg heavier, which equates to the liveweight gain increasing from 0.86 to 0.92kg per head per day.

This helped make calving at two years of age a practical, attractive and economic proposition - one that has now become routine.

It also allowed steers to go to slaughter immediately they were out of retention at an extra 20kg of carcase weight. The faster growth rates have given Mr Burrell the confidence to move on to finishing at 16 months.

Duff is on the left with Mark Turnbull, of Turnbulls' butchers, Alnwick.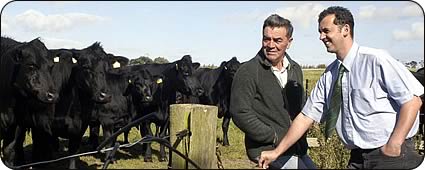 Better health of the sucklers means that empty cow rates are down to 5pc, with 84pc of cows and heifers calving over a four week spread.
"We have to minimise the over-wintering cost of the sucklers; get the finishers to the right market specification in the minimum amount of time," said Donald Brown. "A blueprint to maximise growth rates and carcass quality is everything."
To ensure the required growth rates are consistently met to achieve the necessary R4L Waitrose contract specifications, the farm will adopt a policy of maximising growth to 200 days, controlling it between 200 and 400 days, and maximising it again for the finishing period.
That means achieving a target growth rate of 1.2kg a day from birth to slaughter - which is a 16pc improvement on what the farm achieved pre-Single Farm Payment. Broken down into age groups it will mean maximising 200 day weights to achieve a target of over 300 kg; ensuring a growth rate of a kilo a day through the growing period to 400 days to achieve a target of over 500kgs, and a rate of 1.5 to 1.6 kg per day in the final finishing stage.
The ultimate goal is to have all the cattle killed by 500 days at a minimum liveweight of 620kg, or 322kg carcase weight. From before using the Keenan System this will represent over 160 days saving on keep with no loss of sale weight.
"At 500kg I have the option to finish them quickly and sell them dead, to sell them as stores or continue to grow them on," says Duff. "I will take whatever I think is the most profitable option at the time."
Mr Burrell also supplies Alnwick butcher Turnbulls with between four and six cattle each week when ready and available.
Turnbull's Butchers has done a great deal over the years to cement relationships with local meat producers by forging innovative "Gate to Plate" partnerships and the relationship with Duff Burrell is a flagship example of this forward looking philosophy.
Mark Turnbull said: "We have always supplied local meat in our shop and there is growing interest in the Aberdeen-Angus breed. More and more of our customers are wanting to know exactly where their meat has come from.
"By sourcing our beef direct from the farm, it gives us hands-on control over the whole process and both we and Duff are keen to develop this initiative.
"Aberdeen-Angus beef is among the best you can buy. The cattle mature early under natural conditions to achieve a perfect balance of fat and lean with a small proportion of bone, coupled with the ability to grow and finish on grass and home-grown feeding to produce a completely natural product."
In the first year of following the Keenan System blueprint the 200-day corrected weights have averaged 309kg and the 400-day corrected weight 488kg and they were killed at 501 days averaging 625kg. Weight gains in the finishing period are currently averaging 1.4kg/head/day in cattle buffer fed at grass through October, November and December.
Rations consist almost entirely of home-grown oats, barley, silage and straw, plus a little bought in beet-pulp, rapemeal and molasses. Home grown cereal at Broome Park is under review as it would currently be more economic to buy straw, grain and other high energy alternative feeds and use the land for other purposes.
"We, Keenan, are big believers in including straw in the ration," said Donald. "It opens-up the ration, makes it more palatable and also slows the rate of flow through the rumen which allows the bugs to utilise the energy and protein in the silage and other feeds more effectively. It also allowed the farm to cut silage earlier and to go for quality rather than quantity, as less silage is consumed by the cows.
"Tying up vast areas of good grass land to make silage is not economical viable when these fields are capable of producing excellent liveweight gains in growing and finishing cattle and superb conception rates in spring calving cows," says Donald.
Initially sceptical about using straw, Mr Burrell is a total convert to the concept. "Angus cows will stand eating a silage ration all day, but add some straw to it and they settle down, chew their cud and become much more contented and efficient animals," he says. The inclusion of processed straw is also having a significant impact in finishing cattle at grass, where the feeding of an ad-lib partial TMR mix with high levels of grain included is being fed as a buffer to good grazing.
"This potent but nutritionally safe ration helps maintain grass intakes and has been achieving weight gains at grass close to 2kg per head per day in the better end of the pure Angus and Angus cross steers through October and early November," said Donald.
The autumn born steers were killed at an average 504 days of age having gained 1.17kg/day gain from birth to slaughter at 328kg deadweight. Using the Keenan System Duff has taken 158 days, more than 5 months off the cattle's age at slaughter without any loss in sale weight. This represents a 36pc increase in daily liveweight gain.
With the farm well on-track to meet the required growth rates, emphasis is now being placed on selective culling to improve the genetic status of the herd. Records are rigorously kept to select cows throw calves that grow, while others will be replaced.