Right Royal Venison!

11/03/05
Harry Coates is pictured left in Balmoral Estate's game larder with head gamekeeper Ben Fernie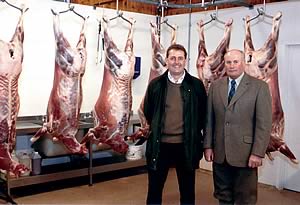 Durham butcher Harry Coates has been on a mission that's very deer to his heart!
He recently visited Her Majesty The Queen's Balmoral Estate in Scotland, from where H Coates & Son Butchers has been sourcing venison for the past three years for its steaks, joints or diced venison, along with the business's award-winning Balmoral Burgers.
The meat is available all-year-round at the main Framwellgate Moor shop and to order at the Coates' Coxhoe and Trimdon outlets.
It was one of Harry's regular fact-finding visits to suppliers, where he checks that the quality of meat products is being maintained to the business's exacting standards.
"With Balmoral Venison, our customers can rest assured that they are consuming products by Royal Appointment!" quips Harry.
Harry and his Coxhoe shop manager Ivan Lowther have also been on a supplier visit to the Scotch Premier Meat processing plant at Inverurie in Aberdeenshire. The business now sources all its beef from this Scottish centre of excellence, along with Highland lamb and pork.
The duo were given a conducted tour of the Scotch Premier production plant, followed by visits to a local auction mart and a farm at Dibble, near Inverness, home of Scotch Premier supplier Iain Brown.
"We were really impressed by the facilities. Everything was pristine," comments Ivan.