RABDF Prince Philip Award goes to Northern Dairy Supplies

26/03/05
Dairy hygiene and mastitis control specialists, Northern Dairy Supplies of Preston were presented this week with the RABDF Prince Philip Award 2004 by His Royal Highness at Buckingham Palace. The honour was made to the company for the most practical, relevant and best presented technical exhibit at last year's Dairy Event.
HRH Prince Philip presents the RABDF Prince Philip Award to Northern Dairy Supplies' Alex Barber and his wife, Evelyn.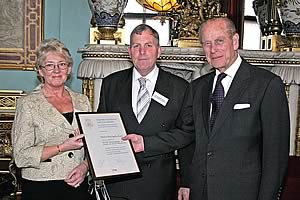 The judges made their decision on the company's F50 Puli-System, a parlour operated device designed to help reduce mastitis incidences and improve milking speed and overall milk quality by washing, massaging, disinfecting and drying cow teats prior to milking.
"We're delighted to have realized our ambition to return to Buckingham Palace to receive the top award having been presented a Certificate of Merit more than 10 years ago," says joint company director, Alex Barber. "Already, we have more than 20, F50 Puli-Systems in operation. Farmers are finding that they are not only saving time, but they are also preventing cross contamination between cows, and subsequently reducing cell counts and bactoscans, and improving milk value."
A Certificate of Merit was made at the Dairy Event to DeLaval for the Swedish based company's battery-operated optical somatic cell counter. The portable device, which was launched at the Dairy Event, is designed to provide udder health test results within one minute and subsequently enable farmers to make direct selected mastitis treatment if necessary.
RABDF's chief executive, Nick Everington says: "The strong field of entrants for the RABDF Prince Philip Award 2004 at the Dairy Event covered a wide range of products and processes from recycled newspaper used as cow bedding to maize growing, treatment and feeding systems and 'lifetime' integrated dairy cow management. We believe in rewarding exhibitors who excel in technical innovation, and Northern Dairy Supplies proved to be a tremendous example." He adds: "RABDF will once again be staging the award at the Dairy Event 2005, and we look forward to another set of high caliber entries from our exhibitors."