14/03/05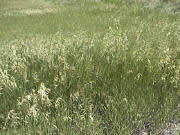 Delayed growth will make late spring and early summer brome control in winter wheat particularly important this season, warns Agrovista technical manager, Mark Hemmant. Especially so, following the upsurge in problems experienced with the damaging weed by so many growers last year.
"Recent experience has, thankfully, taught us that brome can be very effectively controlled well into May and through to wheat GS39 with the right strategy," he points out. "But growers will need to plan ahead carefully, not least to ensure they leave space in their programmes for the specialist sulfonylurea treatments required.
"Pre-emergence flufenacet +pendimethalin (Trooper / Crystal) did a good job on brome where it was used correctly last autumn. With persistent wet weather disrupting many spraying programmes and the cold February and early March delaying spring growth, though, there are plenty of post-em grass weed herbicides still to go onto the wheat crop. And they could easily compromise brome control if not planned correctly.
"For instance, Atlantis (mesosulfuron + iodosulfuron) will be an important component for many," he notes. "However, no-one should rely on it for brome control. Equally, because it's an SU, sequence restrictions will prevent either of the available brome herbicides being used in the same programme."
Where brome is the major problem, Mark Hemmant insists that growers must leave space for either Monitor (sulfosulfuron) or Attribut (propoxycarbazone-sodium) in their spring programmes by avoiding sulfonyureas to control other weeds. Instead, he suggests using mixtures like Hawk (clodinafop-propargyl + trifluralin) + IPU. While single brome herbicide applications will be fine to tackle meadow, soft, rye and even great brome, he stresses that split dose regimes of the same product are best to tackle sterile brome, pointing out that where the second split is not applied 3-4 weeks after the first results will be very disappointing. He always recommends using an appropriate adjuvant such as Galion.
"It's important to appreciate that Attribut has a GS32 label latest timing restriction this season," explains Mark Hemmant. "So in a late season like this where crops may move through the growth stages very rapidly once the weather warms-up, Monitor (which is safe up to GS39) will give a wider window for that all-important second split.
"The choice between the two brome herbicides really depends on your following crop requirements, though. If you want to grow oilseed rape after your wheat, you'll have to use Monitor.
"Monitor scores too where the greatest tank-mixing flexibility is important and where good cleavers control is a priority. On the other hand, Attribut is better where black-grass is mixed in with the brome.
"Whatever your approach with brome this spring, it's important to get it right," he concludes. "Time may not be on your side.
"So, keep a close eye out for the weed this spring. Avoid SUs to control other weeds wherever brome is a particular problem. And, make sure you apply the recommended single or split brome herbicide regimes correctly.
"Fail to do so, and as many people found to their cost last year, you're likely to be facing serious yield losses and particular harvesting difficulties."