Limousin Bull sells for 42,000gns at first Carlisle Sale of season
19/02/05
Cloughhead Umpire - 42,000gns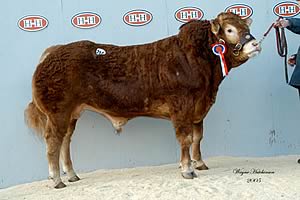 Local breeder George Hutton of Setmabanning, near Keswick, sold his home bred young bull Cloughhead Umpire, for 42,000gns at the first sale of the season. Umpire, a son of Petunia who goes back to the noted Malibu sire, and out of the imported cow Gascogne sold with an EBV of LM+26. A popular Supreme Champion at the pre-sale judging from the day before, Umpire stays in Cumbria and joins the Haltcliffe herd of Messrs Ridley based near Hesket-new-Market, Wigton.
Following at 12,500gns was the second prize winner to the champion, Glangwden Useful from Chris and Fiona Jerman, Powys. Sired by Paul a son of the renowned Jacot sire and bred from their home bred cow Glangwden Primrose a Redpaths Jaguar daughter, Useful was sold to commercial breeders JW Dent & Sons of Naby View, Barnard Castle.
Other leading prices - Bailea Ulsterman (lot 99) 11,000gns; Scorboro Universe (lot 111) 10,000gns; Heathmount Uppercrust (lot 244) 9,500gns; Cloughhead Union (lot 279) 9,200gns; Dyfri Usant (lot 84) 8,500gns; Normande Urquhart (lot 306) 7,500gns; Haltcliffe Uncle (lot 89) 7,200gns.
Averages - 42 Senior bulls £2,673.39, 48 Intermediate bulls £3,046.25, 34 Junior bulls £4,953.53.
Auctioneers: Harrison & Hetherington, Carlisle