Defra helps fire up interest in historic Lime Kilns

23/02/05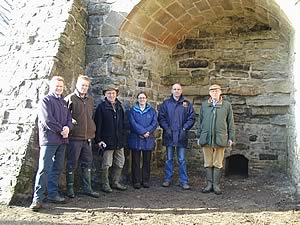 Two historic Grade II Listed lime kilns in the heart of the Northumberland countryside have been preserved for future generations with the help of Defra.
The Christon Bank Lime Kilns, on the edge of the village of Christon Bank, lie within the 2,000-acre Fallodon Estate, owned by Peter Bridgeman.
Mr Bridgeman signed up to Defra's Countryside Stewardship Scheme (CSS) and was awarded funding to help repair and preserve the lime kilns, which are set on a bridleway leading from the seaside village of Embleton and are a place of interest for visitors and tourists. He was also awarded a conservation grant from Alnwick District Council to assist with the project.
The Christon Bank Lime Kilns are listed as buildings of architectural and historic interest and are described as a good example of a double unit lime kiln.
Mr Bridgeman explained:
"The kilns are typical of buildings on the estate and were constructed to a very high standard, but they were suffering from deterioration, mainly due to scrub becoming overgrown on and around them.
"Through the CSS agreement we've been able to clear away the vegetation and bring in experts to repair and repoint the stonework of the buildings. This will help preserve them for future generations and provide an interesting feature for those using the bridleway."
Ray Connell, principal at Alnwick's Reavell & Cahill Architects, which has overseen the repair work carried out by Historic Building Services of Acomb, near Hexham, said:
"The kilns, which date back to the early 1800s, are part of a complex that includes the limestone source, a quarry now flooded, an approach ramp and a number of bell pits in an adjacent field, which may have provided the poor quality coal necessary for the burning process. Lime improves crops by counteracting soil acidity and improving soil structure and the kilns were used to produce the large amounts of lime that were needed in the mid-18th and 19th centuries during the 'age of agricultural improvements'."
Neil Tulloch, an an adviser for Defra's Rural Development Service in the North East, said:
"We have more than 1,000 agreement holders across the North East with almost 92,000 hectares of land covered by agri-environment schemes that are helping preserve and enhance our landscape and wildlife habitats.
"Many agreement holders, like Mr Bridgeman, have incorporated projects to preserve and enhance important archaeological or historical features on their land and we're delighted that we have been able to assist in this conservation work at Christon Bank.
"The lime kilns at Christon Bank are a great example of what is now a valuable part of agricultural history and we're delighted to have played a part in their preservation."
Mr Bridgeman's agreement has also included a range of environmental works including hedge planting and restoration, tree planting, pond creation and the establishment of grass margins around arable fields.