Sheep Wildlife Enhancement Scheme

04/02/05
Cumbrian sheep farmers have played a major part in a £5.5 million national scheme to help tackle overgrazing and undergrazing.
Over 50 have signed up to English Nature's Sheep Wildlife Enhancement Scheme over the last two years and have received grants to help them manage wildlife sites through sustainable grazing.
This has supported sheep farming that benefits the flora of the Lake District fells on nearly 7,000 hectares (or 17,000 acres), injected £1.5m into the Cumbria economy, and helped traditional management like shepherding.
Across England the scheme has improved wildlife habitats on over 41,000 hectares (or 101,000 acres) of Site of Special Scientific Interest land - an area bigger than the Isle of Wight.
Over 380 farmers and land managers have joined the scheme. Some of our most treasured wildlife habitats, from the chalk grassland of the South Downs to the open fells of the Lake District, need grazing to keep them healthy.
This scheme has enabled farmers to get the right balance for their sheep and these top wildlife habitats.
Herdwick sheep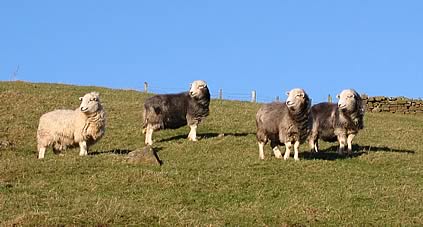 In Cumbria the scheme has focused on working with the sheep farmers of the Helvellyn and Scafell fells.
Sam and Candida Hodgson farm at Glencoyne Farm, Glenridding, and graze sheep on the Ullswater side of Helvellyn.
"Working together with English Nature we have agreed a new grazing pattern that works" said Sam.
"Support for shepherding is helping us keep traditional skills alive, as well as protecting valuable habitats on the fell. On the farm we are seeing the sheep and the flora thriving, which is a good result all round"
"The response from Lake District hill farmers participating in this scheme has been terrific" said Des O'Halloran, English Nature's Cumbria Area Manager.
"At a time of considerable change and uncertainty in their industry, they have worked with us to secure the future of grazing on these fells in balance with the needs of the internationally important wildlife habitats. Suggestions from the farmers, like increasing traditional shepherding, have helped shape a scheme that supports good grazing management in a practical way."
Dr Andy Clements, English Nature's Director of Designated Sites, said: "Grazing is the biggest challenge facing SSSI management but schemes like this mean we can work with farmers to make a real difference.
"We are delighted with the number of farmers who have signed up to the scheme, and shown their commitment to help secure the future of some of our top wildlife sites. We are pleased to operate a scheme which keeps farmers farming."
The scheme is based on the principle that getting the right type of grazing on SSSIs is dependent on the skills of farmers and land managers.
By offering farmers practical support, like paying for shepherding and fencing, the scheme helps them manage wildlife habitats on their farms and provides capital to help develop their farm business and keep it viable during a period of major agricultural change.