SHEEP 'MOVE OUT' TO HELP RARE BIRD HABITAT

18/01/05
The habitat regeneration of rare local birds such as the black grouse and curlew is set to accelerate when the numbers of sheep grazing on West Allenheads and Killhope Moors are reduced.
Defra's Countryside Stewardship Scheme (CSS) is funding an agreement with local farmers to reduce the number of sheep grazing on the 3,000 hectare common from 6,000 to 4,000 in the summer months and 2,500 through the winter.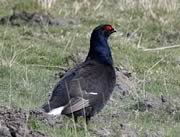 Black Grouse
The reduction in sheep will boost bird numbers in the area by helping the rich heather moorland regenerate more fully and enhance nesting ground for black grouse, red grouse, golden plover, curlews and other birds in the summer months. A halt in silage feeding for the remaining sheep will also reduce localised damage and improve local amenity value to the surrounding community.
West Allenheads and Killhope Moors are already recognised as valuable conservation areas with Site of Special Scientific Interest (SSSI) status in the UK and Special Areas of Conservation (SAC) and Special Protection Area (SPA) designations in Europe. The new measures will enhance their value both to wildlife and the public.
Peter Combe of Land Factor who works on behalf of the local landowners and graziers praised the new CSS agreement and said:
"Allendale Common is one of the biggest commons in England and provides an extremely valuable habitat for local bird populations, some of which have come under pressure in recent years. This new scheme should both improve the overall condition of the heather moorland and lead to an increase in ground nesting birds by providing improved habitat for nesting.
"The West Allenheads and Killhope Scheme is the biggest CSS agreement I have been involved in, and is the biggest Defra has in the North East of England. It has been a challenge to bring together the various interested parties under one scheme, but the new initiative will help local farmers diversify their income base and also secure the long term future of this nationally important wildlife habitat."
Miriam Baines, of English Nature, said:
"CSS is enabling the levels of grazing to be brought down to a more sustainable level. This will enhance the nationally and internationally important habitats of blanket bog and dry heath so enabling vast expanses of purple heather moorland to flourish, plants such as cotton grass to thrive and merlins and golden plover to prosper."
Juliet Hovell, an adviser at Defra's Rural Development Service in the North East, said:
"This is an important new agreement, developed through partnership between ourselves, the landowners, the graziers, Land Factor and English Nature, and will play an important role in enhancing the fell, improving the condition of the heather and the habitat for various bird species."