Allison Secures Holstein UK's Littlestar Award
2011-11-18
Holstein Young Breeders' Club member, Allison Wilson from the Gravelhill herd in Newtownabbey, County Antrim, is this year's proud winner of Holstein UK's prestigious Littlestar Award.
Allison Wilson, Gravelhill Herd, Newtownabbey, receives the prestigious Littlestar Award from Holstein UK president Jimmy Hull, and Alan Cleland, chairman, Holstein NI.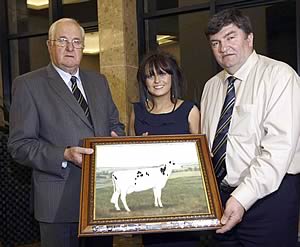 The presentation was made at the All-Britain Multi-Breed Calf Show, held recently at the National Agricultural Centre in Stoneleigh, where Allison was congratulated by Jimmy Hull, newly elected president of Holstein UK, and Carl Smith, non-executive director of HYB.
The Littlestar Award is sponsored by David and Beverley Bostock of Littlestar Holsteins, and is presented to the Holstein young breeder, aged 17 and under, who shows the most commitment and enthusiasm towards their club.
This national award is a great personal achievement for Allison, and is testimony to the success of the Northern Ireland Holstein Young Breeders' Club and the commitment of its members.
The Ballyclare Secondary School A-level student was nominated for the award by the committee of the NI Holstein Young Breeders' Club. On completion of her studies, she plans to follow a career within the agriculture sector.
Allison Wilson has a keen interest in the Holstein breed and is involved in the day-to-day running of the family's Gravelhill Holstein herd. She is public relations officer for the NI Holstein Young Breeders' Club, and holds the position of catering officer within Lylehill Young Farmers' Club.
Allison is a great ambassador for the Holstein Young Breeders' in Northern Ireland, and is very enthusiastic about its events which include stockjudging competitions, clipping and showing demonstrations and various other social activities.
Northern Ireland Holstein Young Breeders' Club members who have previously won the coveted Littlestar Award include, Andrew Patterson from Crumlin in 2009, and Louise Lilburn from Moira in 2000.

Reserve Champion Tops Moira Holstein Trade at 3,300 guineas


Robotic Milking System Realises Full Yield Potential


Glasson's Glora Hits Top of the World Charts