John Penny Takes English WInter Fair Champions for Customers
2010-11-29
Leeds-based meat supplier John Penny & Sons created a stir of excitement with a spending spree at last weekend's English Winter Fair livestock showcase to secure the country's best prime cattle and sheep for retail and catering customers.
(LtoR) Jonny Lyon and father Trevor with Meat Loaf and Mick Searle of John Penny & Sons.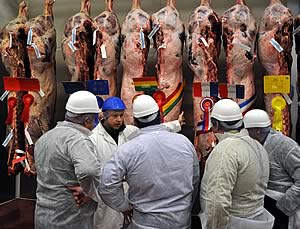 Mick Searle, John Penny & Sons' sales manager, took a position close to the rostrum of Bagshaws auctioneers and in determined mood soon secured the English Winter Fair supreme champion and reserve champion for £6500 and £3400, respectively. "Our customers demand the best so we buy the best," said Mr Searle emphatically.

The livestock showcase - the country's largest attracting 400 prime cattle, 200 prime lambs and 60 prime pigs in live classes as well as large entries in separate carcase competitions - saw Lincolnshire farmers TA and LC Lyon & Son take the supreme champion title with a Limousin-sired steer called Meat Loaf (pictured).
In reserve place was Yorks-based farmers M & C Keel with a Belgian Blue-sired steer called Jet.
Mr Searle continued to invest in top quality prime-stock taking several other cattle and prime lambs for select customers in the run up to the busiest meat trading and catering period ahead of the year end.

Sexed Semen Available from World-Class Simmental


East of England Winter Fair Beef Shorthorns Sell to 3,800gns


Skipton Beef Shorthorns Peak at 2,900gns Twice